The firm, which has offices and a manufacturing facility in Edinburgh, says it has installed its "world-leading" tidal energy technology at the Étel Estuary in Brittany on the west coast of France, adding that the tidal energy trial opens up a whole new global market to supply towns and cities near rivers with clean green electricity, and "proves" that its offering can be deployed in rivers and estuaries as well as seas and oceans.
The tidal power pioneer adds that its new French project follows the installation of the Shetland Tidal Array in 2016 – the world's first offshore tidal energy array, which has powered local homes and businesses since 2016 – and ahead of further deployment in Canada this summer. It added that as per the two latter projects, it has worked in France with local experts and suppliers, with the new deployment delivered as part of the Element project – a €5 million (£4.4m) project funded by the European Union's Horizon 2020 research and innovation programme – in partnership with Cinea (European Climate, Infrastructure and Environment Executive Agency).
Nova collaborated with project partners Chantier Bretagne-Sud, ABB and Innosea on the manufacturing and build of the subsea systems, France Energies Marine for environmental monitoring and IDETA for community engagement, also branding the Étel deployment "another successful project delivered in partnership with the European Commission, keeping Europe at the forefront of this emerging global sector".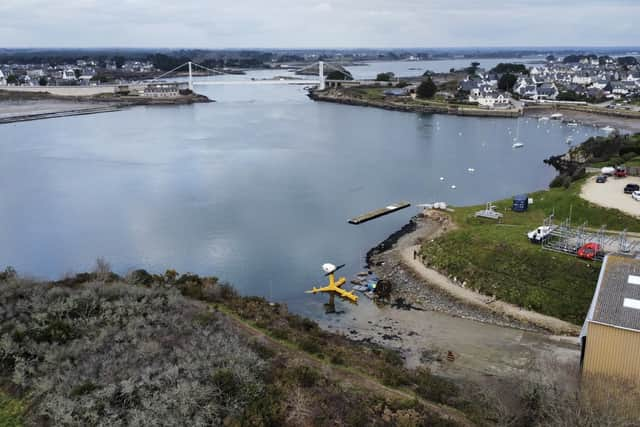 Edinburgh-based Nova also stated that its seabed-mounted turbines create no visual impact or navigational hazard, "so the community using the Étel, ranging from oyster fishermen to kayakers, are unaffected by the turbines – the Étel estuary is rich in wildlife and one of the most beautiful natural landscapes in Brittany, so Nova's robust environmental credentials were a key factor to site approval".
Reliability
Nova chief executive Simon Forest said: "We are delighted to have successfully delivered this project in collaboration with our French partners and the European Commission. The potential for tidal energy in France is huge and this pan-European collaboration has demonstrated a continued path of cost-reduction alongside enhanced reliability.
"The demonstration of our technology in estuaries and rivers significantly increases the global market for our turbines. Having now successfully deployed in both the UK and France, which share the majority of the tidal resource within Europe, Nova is perfectly placed to help deliver the EU's tidal energy ambitions and play its part in Europe's energy security."