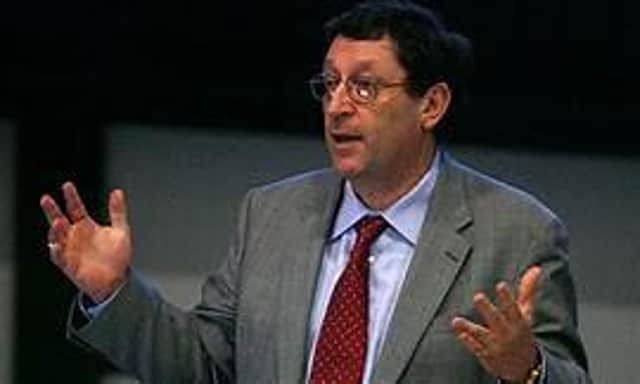 Professor David Blanchflower, known as Danny, is no longer to work at Stirling University.
Professor David "Danny" Blanchflower, who was dubbed the "arch-Dove" when he sat on the bank's Monetary Policy Committee (MPC) between 2006 and 2009 due to his fierce belief in cutting interest rates to rescue the economy, said that he no longer had a job at the institution after more than ten years in the post – and accused the university of "not caring" about economics.
He told The Scotsman that he had been given a letter of termination from the Dean of the university with "really no discussion or explanation" of why. A number of economics academics from Stirling are understood to have left the department recently, including Professor David Bell, who has retired and others who have moved on to other academic institutions.
He added: "I have been there for a decade and have been publishing like gangbusters. They have lost several top name professors to retirement and others like me [to other institutions]. None have been replaced. I guess you have to conclude they don't care about economics."
US-based Blanchflower said that he was due to announce a new position – believed to be with another Scottish university – later this week.
He wrote on Twitter: "I was let go by @StirUni yesterday after a decade with them. Much thanks to all my friends in the Economics Department who were always great. Sad to go. Oh well."
He also paid tribute to colleague Professor David Bell – with whom Blanchflower co-authored a variety of papers.
He said: "It has been fun to spend time in Scotland with my great co-author @DavidNFBell."
During his time on the MPC, Blanchflower, who is also Bruce V Rauner professor of economics at Dartmouth College in the US, accused his economist colleagues of "fiddling while Rome burns". He also openly questioned the validity of the Bank's growth forecasts and complained that "they called me bonkers".
He voted for rate cuts 14 times – most memorably at the September 2008 meeting of the MPC, just before the full effect of the recession began to bite, when Blanchflower voted for a 0.5 per cent cut against the other members' 'hold' - before his fellow members agreed and interest rates were eventually slashed to an historic low.
The recession of the late 2000s was one of the deepest in living memory and was known as the Great Recession. The UK GDP declining by 6 per cent between the second quarter of 2008 and the second quarter of 2009. It wasn't until 2013 that the UK economy recovered to its size pre-recession.
The recession was caused by the late 2000s finacial crisis, the subprime mortgage crisis and a credit crunch, or the sudden tightening of restrictions to borrowing.
Much of Blanchflower's work has focused on the economics of happiness, here he has found a correlation between age and happiness, declining through the 20s, 30s, and 40s before increasing in retirement.
A spokesman for Stirling University said: "We can confirm Professor Blanchflower has not had his contract renewed and is no longer an employee of the University."
A message from the Editor:Thank you for reading this article. We're more reliant on your support than ever as the shift in consumer habits brought about by Coronavirus impacts our advertisers.
If you haven't already, please consider supporting our trusted, fact-checked journalism by taking out a digital subscription.