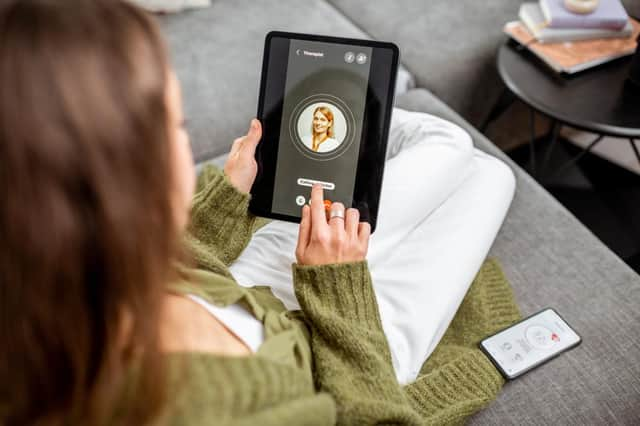 Time to 'push digital boundaries' for isolated households
The COVID-19 pandemic has spurred a massive technology innovation effort from companies, governments, universities and individuals. From the rapid creation of apps to support test and trace to the roll-out of new remote virtual healthcare services to support vulnerable people in their own homes, change has happened at unprecedented pace during the crisis.
That trend is set to continue beyond the pandemic because organisations have seen the benefits of seizing new possibilities to work faster and more collaboratively to achieve better outcomes for citizens and also for the health and social care workforce that support them.
But in this rush to accelerate innovation, it is also critical that we think carefully about what lessons we can take forward into the long-term that help us build on the successes that have been seen in the past year, both here in Scotland and globally. Three key factors have begun to emerge that will help generate the best outcomes going forward.
Firstly, we need to keep front and centre the interests and perspectives of citizens in designing new products and services, placing particular emphasis on whether they are inclusive enough to improve the lives of every potential user.
Recent research by Citizens Advice Scotland found that only 19% of respondents from the most deprived areas of Scotland reported being able to use a computer at all. Half (51%) of respondents living in those communities reported never using the internet, compared with just 8% living in the least deprived areas.[1]
Yet we also know that people in those deprived areas are among the most likely to need additional support from healthcare providers so we need to find ways to ensure that products are designed from the ground up in direct collaboration with them. Making access inclusive is essential.
Secondly, we need to think carefully how we make the best use of the very rich healthcare data available in Scotland today. That data can be the key to solving some profound problems across the population but we must recognise and tackle risks associated with handling it safely.
Research conducted for Accenture's Healthcare Technology Vision 2020 suggests that 70% of healthcare consumers are concerned about data privacy and commercial tracking associated with their online activities, behaviours, location and interests.[2] The recent public debate that arose over the need for location and health data to track the spread of the coronavirus showed that data privacy is a complicating factor in product development, but not one that we can shy away from.
That means people need reasonable reassurance if they are to adopt new tools at the scale needed to deliver positive public health outcomes population-wide. In practice, healthcare companies and providers must work closely with government regulators to put in place new systems that allow new tools to develop rapidly, while also leaving citizens with the reassurance that they have ownership over their own data.
This in turn relates to a third clear lesson that has been learnt during the pandemic: the need to constantly improve the way different organisations work together to deliver better outcomes for citizens.
There has been a growing and welcome acceptance that ecosystem-wide collaboration in digital healthcare must permanently replace the older model that often saw the tech sector, life sciences businesses, healthcare providers and public bodies like government and regulators work in isolation to address population healthcare needs piecemeal.
Tools like NHS Near Me, a video calling consultation service, have become a particular lifeline for at-risk people shielding from Covid, as well as for communities in remote areas like the Highlands and Islands. However, we know that such services will only reach their full potential if they're fully accessible, a task that the Connecting Scotland programme has taken on with a target to get 50,000 digitally excluded households online by the end of 2021.
If we are alive to such significant challenges across the expanding digital health ecosystem, and continue to take a joined-up approach to innovation that breaks down old silos, I'm confident that we can continue to push new boundaries in addressing healthcare needs wherever they are in Scotland.
[1] Digital inclusion, exclusion and participation (IRISS)
[2] Healthcare Technology Vision 2020 (Accenture)