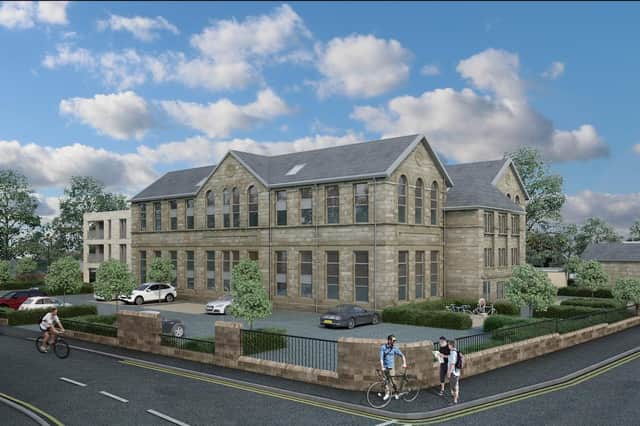 The old building is retained, and new-build extension apartments benefit from either Juliet style or full balconies
As house hunters return to the market after the long lockdown, it is fair to say the experience has changed what people are looking for. The once-lofty ideal of living in the heart of a bustling city has been replaced with a yearning for open space, green fields and a community.
With the perfect blend of modern living, traditional charm and stately architecture, Moncrieff View - being developed in the much sought-after village of Lenzie - has it all.
The former primary school offers a range of two and three bedroom apartments over two buildings, each one featuring modern fittings in a classic design.
The former primary school offers a range of two and three bedroom apartments
Eleven of the apartments are located within the carefully restored original schoolhouse and nine are in a sympathetic new-build extension.
Its unique design marries the historic and characterful charm of this former schoolhouse with the sought-after features of a modern home. Inside, the apartments boast full-height windows, while many offer double height ceilings and mezzanine levels.
And the new-build extension apartments benefit from either Juliet style or full balconies, with a selection of ground floor apartments including private outdoor areas.
The buildings also feature a grand communal space, carefully restored with the original staircase taking centre stage, all encapsulated by a glazed atrium roof – a sight guaranteed to impress upon arrival.
The design marries the historic and characterful charm
Surrounded by an abundance of village shops, pubs, and eateries all within walking distance as well as a busy town centre just a five-minute drive away, Moncrieff View offers a rare opportunity to enjoy spacious living in the most enviable of settings.
Whether it be a leisurely stroll to the local bistro, a short drive to the bustling shopping centre or an outdoor pursuit, all are within easy reach of your new home, along with bowling, tennis and football clubs, cosy pubs and fine dining restaurants.
As befits any modern development is is also looking to the future, with solar panels feeding lighting and power back into the communal area, low-energy
lighting throughout, double glazing as standard and two communal electric car charging points.
Moncrieff View has been created by Homes by High Street, a privately owned award-winning company working throughout England and Scotland.
Their track record is one to encourage any potential buyer. Previous developments include a Grade B Listed mansion house conversion and new-build extension, known as Morar House, in Helensburgh, which won 'Best Apartment, Scottish Highlands & Islands' at the UK Property Awards 2018.
The Walled Gardens, Gosforth project was nominated at the same event and won 'Best Residential Development Tyne & Wear'.
The company aims to provide homes of the highest standard in locations you'll love. And as well as beautifully designed homes they take pride in looking after their customers long after handing over the keys, with all homes covered by a 10-year build warranty and a two year customer care warranty.
Buying a home is completely different to buying anything else. It's all-consuming, emotionally-involving and nerve-wrecking. With Moncrieff View, however, it doesn't have to be.