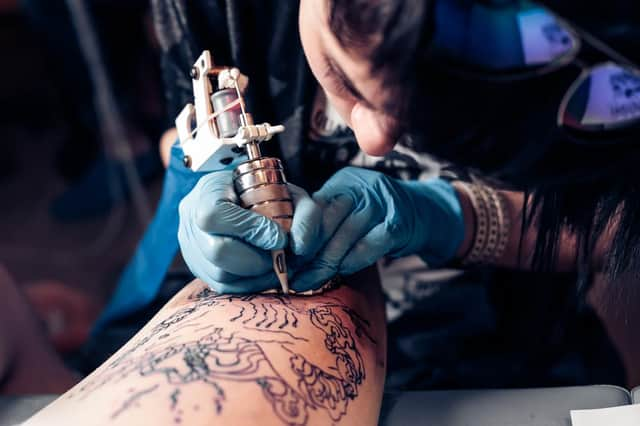 Did you have a tattoo appointment that was cancelled due to lockdown? (Photo: Shutterstock)
With the likes of hairdressers, barbers and beauticians preparing to welcome back customers after closing due to lockdown procedures, you might be wondering when tattoo and piercing studios will also be reopening their doors.
This is everything you need to know about when Scottish tattoo and piercing studios will be able to welcome back customers - and the rules that you'll have to follow.
Are tattoo and piercing studios already open?
On 10 July, the Scottish government updated its list of premises that must remain closed as the country moved into phase three of its lockdown route map.
"While many business premises are re-opening safely after following published guidance per the route map, some premises must remain closed," the government explained.
The list included the businesses that must remain closed and whether there were any exceptions that would allow them to open. Piercing and tattoo parlours were listed as businesses that must remain closed, with no exception.
When will tattoo and piercing studios reopen?
As Scotland moves into phase three of its lockdown route map, the lifting of restrictions is being done in a staggered manner.
First Minister Nicola Sturgeon explained that this was to reduce the risk of coronavirus cases spiking as restrictions are lifted.
Hairdressers and barbers will be able to reopen on Wednesday 15 July, with enhanced hygiene measures.
On the government website it states that personal and close contact services will be able to reopen from 22 July.
The list of businesses that are included under this category include tattoo studios, as well as businesses such as spas, shoe fitters and tailors.
What new safety regulations will there be?
As a "close contact service", tattoo studios and piercing shops will have to operate under strict hygiene measures to ensure the safety of its staff and its customers.
The checklist includes guidance such as:
- Reconfiguring the waiting area to maintain physical distancing, including using markers and signs
- Staggering timings of appointments to minimise the overlaps between clients and unnecessary wait times on the premises
- Clients should wear face coverings for the duration of the service where possible
- Staff should wear a visor in addition to a face covering
- Customers should be encouraged to use contactless or cashless payments where possible
- Staff and clients should use hand sanitiser and handwashing facilities when they enter the premises
- Identify frequent touch points such as phones, card readers, door handles etc. and ensure that these areas are disinfected regularly
Businesses should also keep records of staff and customers details as part of the Test and Protect system.