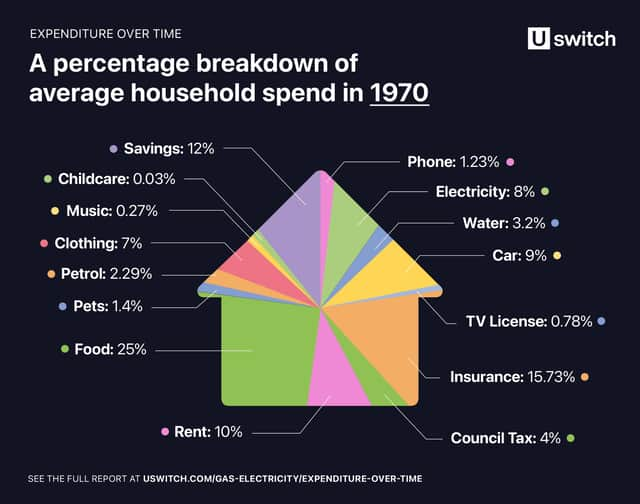 The study looks at the proportion of typical household income spent on costs such as bills, rent, food and other expenditure.
Modern day outgoings on rent shows an increase of over half the spending in the 1970s. Rising house prices and living costs have resulted in generations of Brits being unable to buy their first house, while people are now opting for a more flexible lifestyle with less commitment, spending 15.47 per cent of their salaries on rent, compared to just 10 per cent in 1970.
Essential utilities are costing people five per cent more now than they did in the 1970s, although electricity has shown a slight decrease of 0.43 per cent. In 2019, the average Brit spent £1,279 a year on fuelling their home.
The biggest percentage of the average household spend in 1970 was spent on food, with households spending £625 a year, or 25 per cent of the household income. Now, food costs just 17.41 per cent of income.
The next biggest percentage was 15.73 per cent of the household spend, which was used to pay for insurance. This is closely followed by rent and savings, which made up 12 per cent of outgoings at £300. In 2019, savings account for around half of the proportion of income put aside in 1970, while insurances accounts for just 12 per cent.
The study found that many changes throughout the past 50 years have influenced household income, such as the introduction of the national minimum wage in 1998 and the increase in women taking up paid work.
Ben Smithson, personal finance writer at Uswitch, said: "Understanding where your money is going every month allows you to make informed decisions about your finances. Seeing how the average household expenditure has changed over the past half a century really highlights changes in trends, priorities, technology and necessities."
The report found that household spending on clothing has seen a decrease from seven per cent of household expenditure – £175 - to 5.87 per cent or £993.20 in the past 50 years. Retailers have been forced to keep the price low by online stores and the introduction of fast fashion, in turn lowering the overall household spending on clothes throughout the years. Despite this, the average amount of money spent has increased by £818.20 over the past 50 years.
The introduction of student loans and credit card fees is a financial outgoing that did not exist in the 1970s, these new additions take up almost six per cent of household spending alone.
Meanwhile, technology has become a large part of most households, as seen with the appearance of wifi and TV subscriptions. As technology has advanced, there has been an overall decrease in spending; however, the increase in the use of technology such as laptops, phones and Netflix limits just how much people can save, with people spending £534 a year on entertainment subscriptions alone.
A message from the Editor:Thank you for reading this article. We're more reliant on your support than ever as the shift in consumer habits brought about by Coronavirus impacts our advertisers.
If you haven't already, please consider supporting our trusted, fact-checked journalism by taking out a digital subscription.