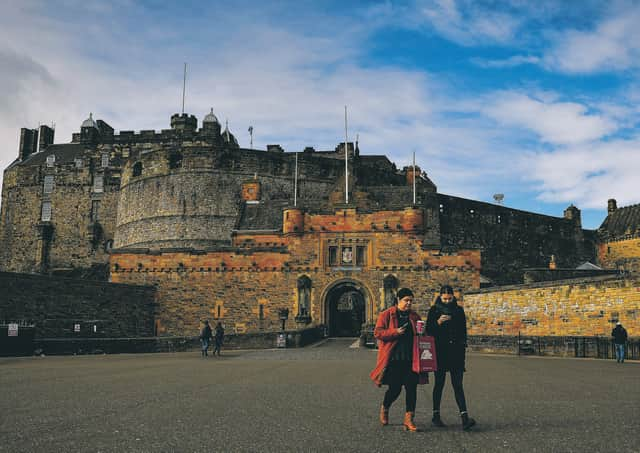 Almost a third of Scotland's visitor attractions do not expect to open this year, despite a lifting of lockdown restrictions, a report has revealed.
Of the attractions which stated that they were opening or awaiting confirmation of opening, 35 per cent told academics at Glasgow Caledonian University's Moffat Centre for Travel and Tourism that they would only be partially opening – such as a garden opening with a historic house remaining closed.
However, three quarters said they had more forward bookings from visitors than at this time last year.
The researchers received responses from 362 visitor attractions across Scotland detailing their plans for opening after lockdown restrictions were eased for the hospitality sector earlier this week.
Professor John Lennon, head of the Moffat Centre, said: "Visitor attractions are at the heart of Scottish tourism and the Covid-19 impacts have meant they have lost more than half of the trading year of 2020. The current necessary health restriction of social distancing reduces demand – making many operations not viable. The downturn in international traffic will further reduce attraction visitation making 2020 an incredibly difficult trading year."
He said that while larger attractions which welcome thousands of visitors year-round, such as Edinburgh or Stirling Castles, would have fewer problems reopening, smaller ones may decide to remain closed until next year.
Reduced capacity in retail offerings and food and drink facilities due to social distancing requirements has left many venues struggling to make money. Around two thirds of respondents said they had retail or catering facilities at their attractions.
Lennon said: "From the survey, it is clear than a number of smaller properties – achieving less than 10,000 visitor per annum – are less likely to open and many larger attractions will experience only partial operation and significant reduction in admission, retail and hospitality revenue streams.
"That is where a lot of money is made outside of admission price. If you are a free museum, the only money you are going to make is catering and retail."
Over a third of attractions stated they would be using an online booking system, with 31 per cent saying that entry to the attraction will be by a timed ticket.
Gordon Morrison, chief executive of the Association of Scottish Visitor Attractions (ASVA), said: "Whilst the report shows that nearly 60 per cent of the industry will be opening up and welcoming visitors again in July, we would stress that there are still huge challenges ahead for the sector. The current two-metre physical distancing rules make it very difficult for many attractions that are open to operate at a financially sustainable level, as capacities are reduced to between 20 per cent to 30 per cent of normal operations. We would strongly urge the Scottish Government to review this and move attractions in line with the hospitality industry, where one-metre distancing with mitigating measures in place has been introduced.
"This is a big week for our industry and it is very exciting to see many of our world class attractions re-opening. We hope that many local visitors will take this opportunity to get out and discover some of the amazing experiences that are right on their doorstep."