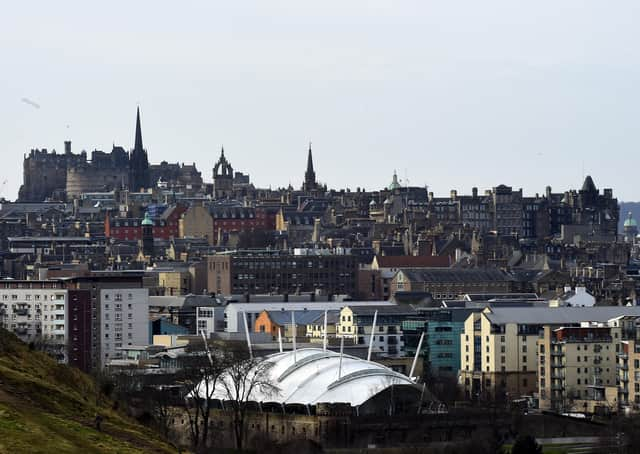 An analysis of Google data shows that the city is taking longer to return to office-based working. The data, which tracks people's movements and allocates it as being at home, at work, or doing recreation activities, shows that when compared to pre-lockdown, Edinburgh has the lowest workplace activity of anywhere in the world, down 69 per cent as of 7 July.
Cities across the UK are among the lowest in the world with Glasgow down 59 per cent, and Aberdeen and Greater London down 58 per cent.
Countries such as Vietnam are showing a much stronger recovery mainly because of their lockdowns starting and ending earlier, with workplace activity up 40 per cent compared with 2 March.
Edinburgh had also been bottom of the list in terms of recreation activities before Leicester dropped below the Scottish capital during its renewed lockdown. Analyist Dan Cookson, an independent housing and spatial information specialist who created graphs to show the data, said the figures were more about mobility than the economy.
He said: "Google's UK data is particularly granular which lets us look at local level mobility changes in detail and compare with rest of UK but also against more than 1,800 other local areas that Google track around the world.
"The data shows changing workplace activity levels across Europe in relation to a normal working day.
"In terms of workplace activity the UK lockdown is still one of the deepest of major economies around the world and within the UK Edinburgh is the deepest local area that is tracked.
"This tells us about people and mobility rather than economic activity per se. Edinburgh obviously has very high levels of service sector such as banking, professional services, IT, tech and public sector, which can adapt to working from home better than other sectors.
"Edinburgh is also the highest of local areas in UK in terms of residential activity."
Dr Graeme Roy, director of economic think tank the Fraser of Allander Institute, said people should be "wary" of reading too much into the statistics, citing the high levels of service industry as a potential reason for the figures.
He said: "It is interesting data. But I'd be wary of reading too much into these results just yet. If you think about the sectors that people work in within Edinburgh, the big employers - financial services, professional services, retail, tourism, hospitality, the university and government/parliament – will have the vast majority of staff working from home or furloughed.
"Over 10.5 per cent of jobs in Edinburgh are in financial and insurance services, compared to a Scottish average of around 3.5 per cent. In accommodation and food services, it is 9.5 per cent versus eight per cent.
"Alongside sectors, if you look at the types of occupations that are in Edinburgh, they tend to support home working. Fifty-six per cent professional in Edinburgh versus 45 per cent for Scotland as a whole.
"This isn't to say that there aren't challenges, and clearly this suggests that Edinburgh might be particularly impacted by changes in working habits and also the importance of a recovery in things like tourism, but I think that it's a little too soon to be saying that things are necessarily going to be a lot worse in Edinburgh."
Jason Rust, a Conservative councillor in Edinburgh, said the findings were "astonishing".
He said: "This is an astonishing statistic and shows the level of the challenge ahead to get the economy kickstarted. There has been significant and unprecedented UK Government intervention to protect, support and create jobs and we need to build on this and as a capital city lead the way.
"Good, secure jobs are the key. There are massive economic consequences arising from the pandemic and we now need to all do our bit to get over the shock and get Edinburgh moving again and support Edinburgh's businesses."
Depute leader of the council, Labour's Cammy Day, said: "It's interesting to see how lockdown has changed the way we live and move around our city and we already know that more and more people are working from home and taking up cycling rather than travelling by public transport or car.
"Looking at the Google data, it's also clear that the vast majority of people in Edinburgh have been following the public health guidance, staying at home when advised to and sticking to their local area. This has been critical for containing the virus and saving lives.
"Unsurprisingly, there has been a sharp increase in people rediscovering the city's parks and greenspaces."