James Fennessey, Colin Haig and Matthew Richards, partners at accountancy firm Azets, have been appointed joint administrators of Bridges Antonine LLP, following a period of "creditor pressure".
They stress that it will be "business as usual" at the centre, which has an annual footfall of more than 3.5 million, and commercial property agents will manage the sales process. All centre management staff are being kept on following the appointment of the administrators.
The shopping hub was built in 2007, officially opened by Princess Anne, and spans 200,000 square feet of retail space with 42 shop units and TK Maxx, Next and TJ Hughes as anchor tenants as well as other national high-street retailers and specialist shops plus cafes, and nearly 1,100 car parking spaces.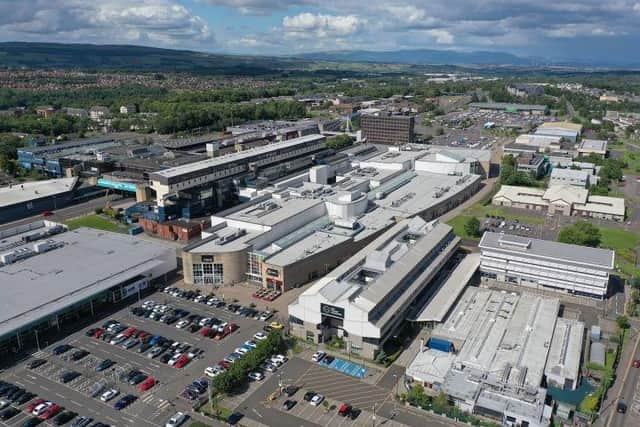 Mr Fennessey, restructuring partner with Azets, said: "The Antonine Shopping Centre is one of Scotland's leading regional shopping centres with a range of high-quality tenants and a very strong brand name across central Scotland. The centre attracts a very high level of footfall.
"The contribution of the [centre] to the economy of Central Scotland is significant and the centre is as much a social hub and focal point for the region as it is a retail centre. We would encourage interested parties to contact the administrators as soon as possible as we are keen to try and find a buyer promptly." The administrators say they will work with the management team and property agents to achieve a sale.
The Antonine Shopping Centre is adjacent to Cumbernauld's 1960s town centre building, which made the headlines last year when it was earmarked for demolition to make way for a new shopping, living and civic space in a greener, low-carbon environment under proposals put forward by North Lanarkshire Council, although the plans received opposition from architectural historians.
Latest administration
The latest administration news comes after East Kilbride Shopping Centre's owner Sapphire suffered a similar fate in November, with Interpath Advisory – formerly KPMG's UK restructuring practice – taking charge. Furthermore, Intu Braehead in Renfrewshire – one of Scotland's largest shopping and leisure facilities – found itself coming under the management of Global Mutual and Savills in October 2020 after administrators were appointed in June of that year.
More recently, the Scottish Retail Consortium (SRC) in its latest sales monitor released earlier this month flagged a modest year-on-year 0.6 per cent jump in February, adjusted for inflation. However, SRC boss David Lonsdale said the challenges for retail "are far from being in the rear-view mirror and the costs crunch affecting households and firms could make for a bumpy few months ahead".
Also commenting was Paul Martin, partner and UK head of retail at KPMG, which helps to produce the monthly sales monitor, who said: "Consumers continue to hold back on non-essential spending as household budgets remain squeezed. With increases in energy, broadband, mobile phone and council tax bills on the horizon, consumers will continue to take steps to reduce spend where they can."