Its profits jumped to $27.7bn (£23bn) in 2022, compared with $12.8bn the year before.
The company said that it would invest an additional eight billion dollars (£6.6 billion) each in the energy transition, and in oil and gas, as boss Bernard Looney promised to keep affordable energy flowing.
The business said that underlying replacement cost profit – the figure most followed by analysts – had reached 27.7 billion dollars (£23 billion) last year.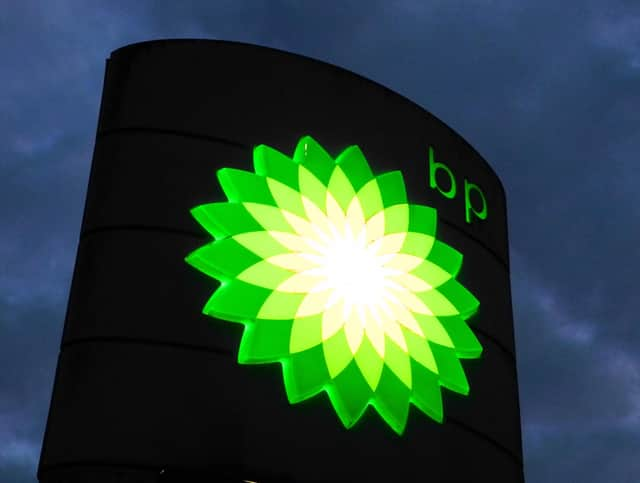 The measure was slightly lower in the last three months of the year compared to previous quarters at 4.8 billion dollars (£4 billion).
BP said that the result had been affected by its gas marketing division, which saw below average results after an exceptional third quarter.
BP shares jumped more than 4 per cent after its record annual figures and as the group unveiled higher payouts for shareholders.
The company hiked its quarterly dividend by 10% to 6.61 cents a share, taking its total 2022 dividend up 11% to 24.08 cents a share, and announced a further 2.75 billion US dollar (£2.29 billion) share buyback.
BP chief executive Bernard Looney said: "We are strengthening BP, with our strongest upstream plant reliability on record and our lowest production costs in 16 years, helping to generate strong returns and reducing debt for the 11th quarter in a row.
"Importantly, we are delivering for our shareholders – with buybacks and a growing dividend.
"This is exactly what we said we would do and will continue to do – performing while transforming."
The announcement comes a week after Shell reporting record profits of nearly $40bn amid calls for a further windfall tax.
Shadow climate secretary Ed Miliband called on the Government to bring forward a "proper" windfall tax on energy companies.
The Labour MP said: "It's yet another day of enormous profits at an energy giant, the windfalls of war, coming out of the pockets of the British people.
"What is outrageous is that as energy giants rake in these sums, Rishi Sunak still refuses to bring in a proper windfall tax.
"This is why people are sick and tired of the way the country is run under the Tories.
"In just eight weeks time, the Government plans to allow the energy price cap to rise to £3,000. Labour would use a proper windfall tax to stop prices going up in April."
TUC general secretary Paul Nowak, reporting on the latest BP profit figures, said: "As millions struggle to heat their homes and put food on the table, BP are laughing all the way to the bank.
"Hard-pressed families will rightly feel furious – they are being treated like cash machines.
"This boils down to political choices.
"Ministers are letting big oil and gas companies pocket billions in excess profits. But they are refusing to give nurses, teachers and other key workers a decent pay rise.
"We need a government on the side of working people, not fat cat energy producers.
"That means imposing a higher windfall tax on the likes of BP and Shell. It means giving public servants fair pay. And it means giving households extra financial support as bills rise this April."
Greenpeace UK's head of climate justice, Kate Blagojevic, said: "BP is yet another fossil fuel giant mining gold out of the vast suffering caused by the climate and energy crisis.
"What's worse, their green plans seem to have been strongly undermined by pressure from investors and governments to make even more dirty money out of oil and gas.
"This is precisely why we need governments to intervene to change the rules."
She added: "It's time to stop drilling and start making polluters, not communities, who did least to cause the problem, pay the price for the climate damage they are causing all around the world."
The Scottish Greens energy and environment spokesperson, Mark Ruskell MSP said: "These profits are obscene. They should be seen as a stark warning of where our climate is headed and the urgent need to move on from oil and gas.
"There are few companies who have done as much damage to our environment as BP. Yet, while millions are struggling to pay their bills, they are reporting some of the most biggest profits in their history.
"All across the world we are seeing the devastating impact of climate change. In Chile there are deadly wildfires. But things have never been better for the oil giants. They are laughing their way to the bank while the world is burning around us.
"We can't go on like this. We can't have multi-billion pound companies building excessive fortunes from the destruction of our planet.
"We urgently need to get away from oil and gas and from a system based on maximum extraction and maximum profits. That means action from every government and a major shift to renewable energy.
"Renewable energy is the cheapest and cleanest energy available. Yet, climate-wrecking governments like the one in Westminster are still prioritising fossil fuels at the cost of our climate.
"We need a fair and just transition that works for our communities and for people and planet. We have the technology and the money, all that is missing is the political will."