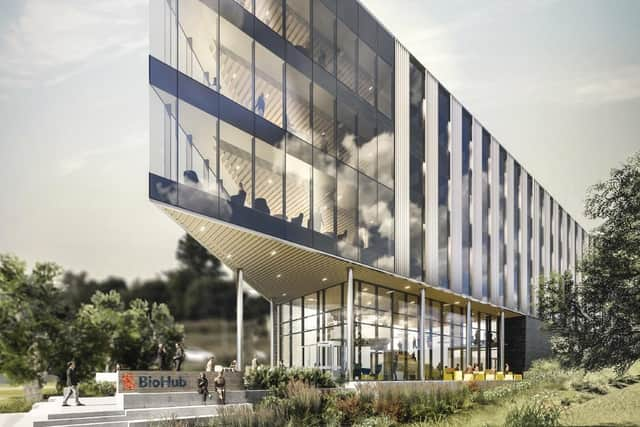 The £40m BioHub will provide laboratory and office space for life sciences businesses.
The new-build, 69,000 square foot BioHub on the Foresterhill Health Campus in Aberdeen will provide specialist support programmes and dedicated incubation, laboratory, collaboration and office accommodation for established and growing life sciences businesses, start-ups and spinouts. It will also be a focal point for international partnerships and investor engagement.
Site enabling works for BioHub are ongoing and delivery of the main construction contract is programmed to run through 2021.
Companies, researchers, clinicians and academics in Aberdeen are at the forefront of high-value developments in biologics and new therapeutics, digital health and medtech, all built on a strong culture of collaborative innovation.
BioHub will accelerate commercialisation in the sector to address modern health challenges, including COVID-19, improve patient outcomes and change how healthcare is delivered. The project will anchor innovative businesses and jobs in the region and support the growth of the national health economy.
BioHub is one of the industry innovation projects supported by the Aberdeen City Region Deal (ACRD), a partnership between the UK Government, Scottish Government, Aberdeen City Council, Aberdeenshire Council and Opportunity North East (ONE). The UK Government and Scottish Government are co-funding £20 million of capital funding for BioHub via ACRD. ONE is the lead partner for the project and has committed £3.6 million to operate the BioHub and deliver specialist support programmes. A new company, BioAberdeen Limited, has been formed to deliver BioHub.
Prof Stephen Logan, chair of the ONE Life Sciences sector board and BioAberdeen said: "Major private and public investment is harnessing north east Scotland's life sciences strengths and related academic, clinical and company asset base to develop one of the most exciting commercial life sciences clusters in the UK.
"BioHub is where people with ideas can take their first steps towards commercialisation, supported by experts. A place where the academic, clinical, commercial and research communities can collaborate and innovate. Where spinouts and start-ups will locate and grow in incubation space. And where established high-growth businesses develop in their custom laboratory and office accommodation. BioHub will be a focal point for international collaboration and investor engagement.
"BioHub is moving into delivery at pace and will create opportunities for accelerated commercialisation, new collaborations and support the growth of the national health economy," said Prof Logan.
To find out more about how the BioHub development is moving ahead and the benefits it will provide, visit the website here.