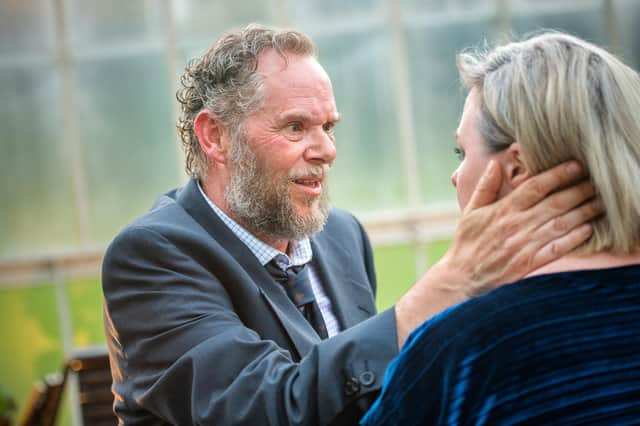 The Tempest, Botanic Garden, Glasgow ****
Much Ado About Nothing, Botanic Garden, Glasgow ****
Time was when dementia was a condition rarely discussed, and often borne in near secrecy by those who suffered from it, and their families.
In the past 15 years, though, there has been a mighty upsurge both in public discussion of the disease, and in film and stage drama that seeks to reflect on what is often an epic journey of grief and loss; and Nicole Cooper's new version of Shakespeare's The Tempest, for the 2022 Bard In The Botanics season in Glasgow, represents another powerful and thoughtful addition to this growing canon of work.
Staged in the grand glasshouse surroundings of the Kibble Palace, Cooper's adaptation imagines Prospero as a former CEO brutally sidelined from his company by his ruthless brother Antonio, and forced to make a life for himself in some isolated spot. He fusses over his pot plants, and enjoys listening to meditative music, in a version of the story that essentially stretches out and explores the ending of Prospero's life, hinted at in the final scene of The Tempest.
As the old man slides into a dream-world where his nurse becomes his spirit-servant Ariel, and he still has the magical power to revenge himself on his enemies, we see a grown-up Miranda arrive with her partner, Ferdinand, bearing a brochure, perhaps for some place where he can receive full-time care. Old Prospero – his "beating mind" possessed by a thousand saints and demons – passes through shades of grief, rage and violent frustration, towards a moving final glimpse of forgiveness and love.
It's a version of the play that requires much rearrangement and reallocation of the text; and in that sense, this is perhaps not a Tempest for purists – more a reflection inspired by the play, than a production of it.
What it does, though, is to throw an unexpected and fierce light on the sheer power of Shakespeare's poetry to conjure up worlds that no longer exist or may never have existed, creating some moments of extraordinary, heart-breaking power, as Prospero briefly re-embodies the grandeur of his former self. Alan Steele gives an astonishing performance as Prospero, at once grand and broken; Jennifer Dick is his infinitely subtle helpmeet, as nurse and Ariel. And with Lindsey-Anne Moffat and Adam Donaldson offering strong support as Miranda and Ferdinand, Antonio and Caliban, this beautifully burnished response to one of the world's greatest texts offers a powerful sense of the great shipwreck that is the end of human life; a shipwreck still illuminated by blazing moments of beauty, and of love.
Meanwhile, out on the grassy slopes of the gardens, Bard In The Botanics artistic director Gordon Barr revives his joyful and hugely entertaining 2013 version of Much Ado About Nothing, in which the play's central relationship – between battle-scarred soldier Benedick and witty lady Beatrice – becomes a gay romance, between James Boal's Benedick and Robert Elkin's camp young live-wire Bertram, the life and soul of the party at Leonata's house in post-war Messina.
There are moments when the straightforward acceptance of gay love that is the keynote of this production jars against the play's darkest theme, which deals precisely with the draconian and intolerant nature of patriarchal power. The sheer exuberance of the celebration of love staged by Barr's company is impossible to resist, though; as they work their way through a series of wild nights, avoid disaster by inches thanks to Katie Barnett's doughty Dogberry and her constables, use sheer guile to defeat evil, and emerge smiling, for a final wedding dance.