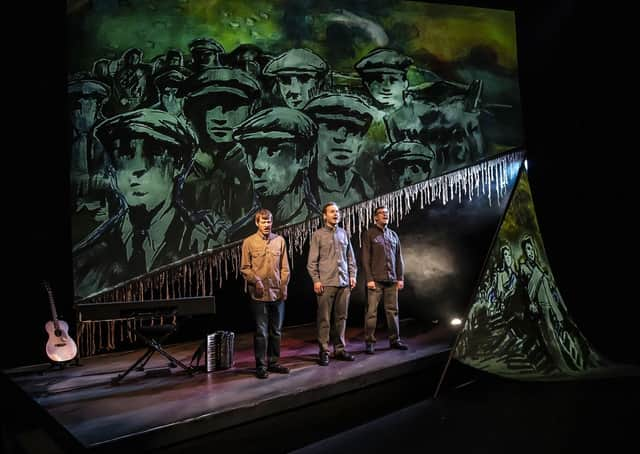 The Ballad of Johnny Longstaff, Traverse Theatre, Edinburgh ****
Nan Shepherd: Howling at the Machine, Traverse Theatre, Edinburgh ***
Lessons in Love, Oran Mor, Glasgow ***
Before his death in 2000, Longstaff left behind six hours of recordings about his 1930s experience; and it's from this treasure-trove of material that the remarkable Tees-side folk group The Young 'Uns – three superb male voices, often raised in heart-stopping unaccompanied harmony – have shaped their acclaimed two-hour song-cycle, co-produced by Northern Stage in Newcastle, and greeted with a standing ovation at the Traverse on Thursday.
As one of the songs says, the tunes are often familiar, from Ay Carmela to the Internationale; but with Johnny's own remarkable, powerful Tees-side voice providing the spine of the narration, Young 'Uns composer Sean Cooney – with fellow-performers David Eagle and Michael Hughes – weaves around it a sequence of unforgettable songs based on Johnny's own words, and backed by Kai Fischer's memorable design, with haunting animations by Scott Turnbull and Aaron Brady.
The Ballad Of Johnny Longstaff marks the end of Scottish director Lorne Campbell's hugely successful artistic directorship at Northern Stage, before he moves on to the National Theatre of Wales; and this powerful show seems a near-perfect coda to Campbell's efforts, over the last seven years, to make sure that the north-east of England never loses touch with its own remarkable history and culture, and also brings its unique voice to bear on the uncertain future we face now.
The Scottish writer Nan Shepherd was born a generation before Johnny Longstaff, in 1893; yet her life, too, was shaped by the dramatic politics of the first half of the 20th century, and by her passionate resistance to a society growing ever more brutally mechanised and urbanised. Shepherd's response, notably in her long 1940s meditative essay The Living Mountain, was to enter into an ever more rapturous relationship with the natural world; and now that she has been immortalised on the current Royal Bank of Scotland five pound note, her old friend Erlend Clouston has compiled an eccentric but entertaining illustrated lecture on her life and thought, subtitled Howling At The Machine.
Clouston presents Shepherd as one in a long line of 20th century counter-cultural figures that stretches from Walter Benjamin to Bjork and beyond; and the show's main difficulty lies in the fact that its 95 minutes is so crowded with incident – as friends of Clouston wander from the audience to play characters from a Karel Capek robot to Shepherd's friend Jessie Kesson – that it reduces Nan herself, charmingly played by Su Clark, to the kind of smiling female silence that would surely have enraged her. As a result, the show lacks the central introduction to Nan herself, and her thought, that would give it more weight and impetus; but as an entertaining leftfield meditation on her life and work for those already familiar with it, it is altogether engaging, and great fun.
Meanwhile, at Oran Mor, the 21st century fun-feminist cliches are rolling thick and fast, in Kate Donnelly and Clare Hemphill's comedy Lessons In Love, in which Donelly and Hemphill play Sarah and Jackie, female chums of 50 or so whose friendship is almost derailed by the reappearance of Hammy Hamilton, the faithless boyfriend who jilted Jackie 20 years ago.
Cue a series of fairly predictable jokes about Hammy's great attractiveness and absolute uselessness, directed at a willing but slightly embarrassed-looking Garry Sweeney as Hammy. In the end, Jackie manages to wash that man right out of her hair, while Sarah succeeds in keeping her comfortable old marriage on track; and that's about all there is to it, in a play that finally amounts to not much more than a supremely undemanding one-line joke.