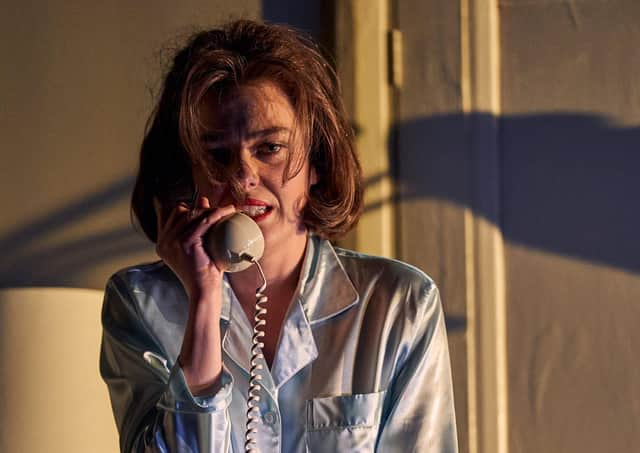 Dial M For Murder, King's Theatre, Edinburgh ****


Anthony Banks's new UK touring production, though, gives this formula a thoroughly welcome shake-up, pushing the style and decor forward to the early 1960s, and portraying the central couple – Margot and her husband Tony – as a slightly racy pair, hanging around with creative types in black leather jackets, and talking, in Tony's case, in a slightly déclassé estuary accent.


Add an interesting twist, in Banks's decision to make both Tom Chambers as Wendice and Michael Salami as Margot's ex-lover Max play their roles in a slightly stylised, hysterical style, as if permanently on the verge of a nervous breakdown, and you suddenly have a much more jangly, disruptive and interesting version of postwar London than is often served up in 1950s thrillers.


The result – after a slightly jolting start – is a tense, clever and thrilling version of Knott's terrific tale, orchestrated to its conclusion by Christopher Harper's strikingly youthful and eccentric Inspector Hubbarb. And as these strange and nervy men circle around her, it's Sally Bretton's touching, straight-as-a-die performance as Margot that gives the drama its emotional centre; conjuring up the image of a woman caught up in a time of social change, and guilty of betraying her husband, but willing to fight for her own life, and – with a little help from her friends – to win.