It is the start of the 1991 Edinburgh Fringe, and I am standing in the middle of George Street with a load of theatregoers. Inside the Assembly Rooms, the fire alarm is ringing and we have been forced to evacuate. Not far away is a tall man dressed in women's clothing, his extravagant peroxide wig making him taller still.
He goes by the name of Lily Savage – it will be many years before he steps out as Paul O'Grady – and he is the reason we are standing in the middle of the road. In his larger-than-life cabaret persona, a razor-sharp Birkenhead matriarch, he had thought it would be fun to do a spot of fire eating. This is the world's greatest arts festival after all.
What he hasn't counted on, however, is the low ceiling of the Wildman Room and the sensitivity of the smoke detectors. Thanks to Lily Savage, every show in the building has been brought to a halt. "People were roaring laughing," says O'Grady today. "They'd go, 'Trust you! You only have to go and set the place on fire!'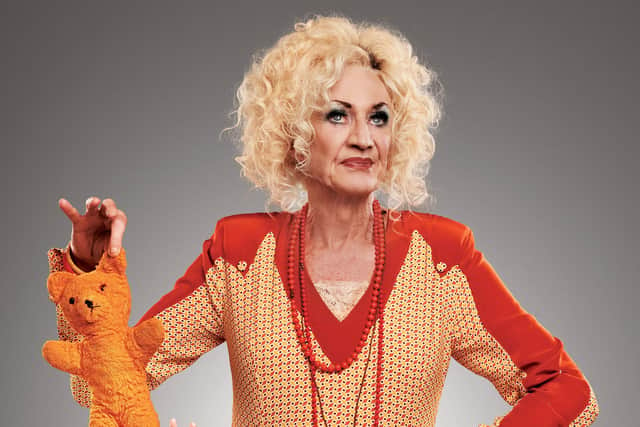 "There were all these worthy shows on, lit by a 40 watt bulb, very meaningful. The next thing they're out on the street, half naked. I'm thinking, 'Oh God, the shame of this!'"
In his memoir, Open the Cage, Murphy!, O'Grady remembers this same night. Embarrassed at causing so much trouble, he had tried to hide in his car, but his manager, the late Brendan Murphy, was having none of it. This was the photo opportunity they needed. As soon as the fire brigade turned up, Lily took pride of place in front of the engine and posed surrounded by the good-natured fire fighters. In true Fringe spirit, the crowd cheered.
The next day, Lily was front-page news and, by the end of the festival, she had made the shortlist for the Perrier award. "It was the best bit of publicity I could have done," he says. "I was mortified. I just wanted to bury myself. But we sold out – bang! – that was it. We didn't have to do anything."
By this point, O'Grady had been honing his drag act for more than a decade. He was a fixture at the Royal Vauxhall Tavern, a South London gay pub, and had perfected Lily's waspish persona, hilariously vulgar and outspoken. The run in Edinburgh set him on a path that, after a few more Fringe runs, would lead to The Big Breakfast, Blankety Blank and the rest.
O'Grady, however, had no game plan. "This was how green I was: somebody said to me, 'Would you like to do the Edinburgh Festival?' and I said, 'Yeah, go on, then.' I had no idea. I didn't know any press came. I seriously didn't know it was a big deal. I just thought it was another gig – then I got nominated for the Perrier and there was all this fuss."
He had been a frequent visitor to the city outwith festival time, playing the Laughing Duck in Howe Street and CC Blooms on Greenside Place. "I had a flat on Broughton Street – fabulous chippy," he says. "But the Festival was every night of the week for three weeks and then we'd go out afterwards till all hours. It was complete carnage. I'd come home shaking."
Did it make a difference to his career? "It sort of did, yes, because drag wasn't fashionable. I stuck out like a sore thumb. I was always offered TV things at four o'clock in the morning. They were terrified of me. I couldn't get on Richard And Judy or anything. Of course, when I did go on it, they realised I was sensible. I wasn't swearing. I had a daytime head and a night-time head, a gay bar head and a theatre head."
He will be able to see Edinburgh again this month when he returns in the role of Miss Hannigan in Annie, a part he has been playing, on and off, for 20 years. "Hannigan's a different kettle of fish from Lily, but great fun to play," he says. "I've always played villains. In every panto, I've been evil. Any telly jobs I was offered, I was always either a rent boy when I was younger, then I was a copper's nark who was a drunken prostitute transvestite. I don't get the glamorous stuff. But you can't have good without evil and the villain is really good fun to play."
First seen on Broadway in 1977, Annie is one of those musicals that has more grit than you expect. In your memory, you think of the sweet little girl singing, "The sun will come out tomorrow." What you forget is that girl is an orphan growing up in the Great Depression and her lot is only made worse by the tyrannical Miss Hannigan. As our own cost-of-living crisis intensifies, what does O'Grady think of the show's portrait of poverty?
"It's right for today, the way things are," he says. "It deals with hardship, but it's done in a jolly way. It's not wallowing in misery. It's all about the Depression, but it has a very happy ending – and it's funny."
Our interview time is coming to an end, but O'Grady has one last request. "Could you just give a mention to Two Doors Down?" he says. "I'd crawl on hot coals for Elaine C Smith." Job done.
Annie is at the Edinburgh Playhouse from 21–25 March