"I'm not short of ideas" - Jemima Levick on taking over Oran Mor's Play, Pie and Pint series
When Jemima Levick heard the Glasgow venue was looking for a new artistic director for its lunchtime theatre series she jumped at the chance, she tells Joyce McMillan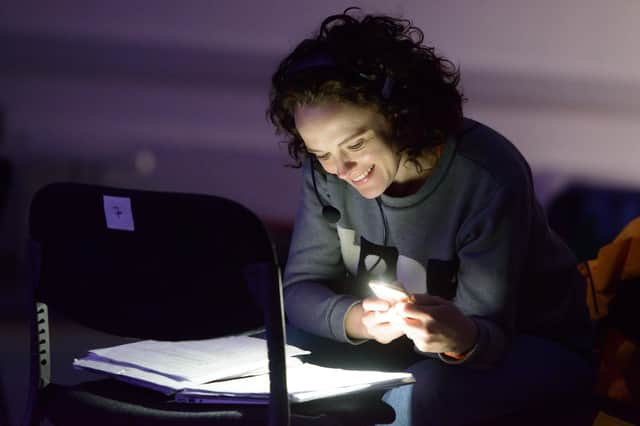 Jemima Levick, in rehearsals for Fibres, a collaboration between Stellar Quines with the Citizens Theatre in Glasgow. PIC: Tim Morozzo
There's something very 21st century about the career of Edinburgh-based theatre director Jemima Levick, who recently announced that she is to move on from her current job as artistic director of Scotland's woman-led theatre company Stellar Quines, to take up the same role at Glasgow's legendary West End new play factory A Play, A Pie And A Pint. Born in London in 1977, Levick is that rarest of things, a leading British theatre professional whose life has been more about moving further away from the UK's great theatre metropolis than about moving towards it; after growing up mainly in Bristol, she came north in 1997 to study directing at Queen Margaret University in Edinburgh, and has never been tempted to look back.
She is also a woman who is not afraid either to aim for top theatrical jobs – in 2013, she was appointed joint artistic director of Dundee Rep, one of Scotland's leading producing companies, and held the post for three years – or to embrace explicitly feminist projects, including the artistic directorship of Stellar Quines, which aims to promote the work of women in Scottish theatre through various support programmes as well as through its touring productions; Levick's most recent Stellar Quines show, pre-pandemic, was a co-production with Imaginate of Finegan Kruckemeyer's gorgeous play for older children, This Girl Laughs, This Girl Cries, This Girl Does Nothing. And she has managed her successful theatrical career without sacrificing her private life, as women theatre leaders have often done in the past; she is married, and has a son and daughter now aged seven and four, currently looking forward to their imminent move from Portobello to Glasgow.
"I don't think I really had much idea what I was doing, when I first decided to come to Scotland," says Levick. "All I can remember is my school drama teacher in Bristol telling me either to go to London for my degree, or get out of England altogether; so I looked at Aberystwyth and Edinburgh, and chose Edinburgh."
Levick received a brilliant introduction to Scotland's theatre scene, from the superb teaching team then working at Queen Margaret, including the late Bill Findlay – best known as a translator and promoter of Scots versions of Quebecois plays – and Maggie Kinloch, later head of drama teaching at the Royal Conservatoire of Scotland. By the time she graduated, in 2000, Levick had built up a network of connections that led her straight into a series of assistant director jobs, notably at the Traverse and Lyceum; and in 2004, she made her main stage debut with her own production of A Christmas Carol, that year's Lyceum Christmas show.
It was during the run of A Christmas Carol that Levick received a note from the late David MacLennan, who had founded A Play, A Pie And A Pint in Glasgow earlier that autumn, congratulating her on the show, and asking her to to come and see him. Levick and MacLennan hit it off instantly; she continued to work regularly with A Play, A Pie And A Pint even after she became associate director at Dundee Rep in 2009, and – like everyone else in Scottish theatre – was devastated by the news of MacLennan's death, in 2014.
"David had this fantastic energy about him," says Levick, "this feeling of stripping theatre back to basics – which is essentially writers and actors – and getting shows on, no matter what. It was that energy that made A Play, A Pie And A Pint such a roaring success; and that's partly why, when I saw that this job was up for grabs, I somehow couldn't forget it, even though I love working at Stellar Quines. I just felt that David had left a legacy of such huge importance to Scottish theatre, and that if Morag Fullarton and April Chamberlain – who did such a great job of building up audiences over the last few years – were leaving, then there would be no better job than to try to build on that legacy, in that same spirit.
"And there was also something about the pandemic, too. In the aftermath of this, we'll need to be flexible and light-footed, to be serious without taking ourselves too seriously, and to get lots of work on, fast; and in essence, that's what A Play, A Pie And A Pint has always been about. So I have a feeling we'll have an important role to play."
In order to land the Play, Pie And Pint job, Levick had, among other things, to sketch out an imaginary Oran Mor season of plays for 2022; and for her, she says, that was no problem at all.
"Scotland is just bursting with talent, and if I can give Oran Mor an even younger and more diverse programme than it already has, I'll be delighted. I also want to build partnerships with an even wider range of theatres, across Scotland and beyond.
"It's not about making drastic changes, though; it's a brilliant formula, that has attracted a wonderful, adventurous audience, and I want to create seasons that have that Play, Pie And Pint quality of surprise, of taking you somewhere completely different every week. One of my first ideas is to commission a brand new musical about all the great historical figures that have made Glasgow the city it is. But beyond that – well, we'll see. Let's just say that I'm not short of ideas; and that – pandemic or not – I can't wait to get started."
A message from the Editor:
Thank you for reading this article. We're more reliant on your support than ever as the shift in consumer habits brought about by coronavirus impacts our advertisers.
Joy Yates, Editorial Director