This week sees the return of popular reality television business show The Apprentice – the 17th series to be helmed by entrepreneur Lord Sugar.
Each week will see a cast of wannabe millionaires take on a challenge to impress their possible future business parter and his trusted aides.
Here's everything you need to know about the latest series of the hit BBC programme.
When is The Apprentice on?
The first episode of The Apprentice is on BBC One at 9pm on Thursday, January 5.
Episodes will then be broadcast on a weekly basis - there will be a total of 12 episodes in the series.
If you miss any of the action you can catch up on the BBC iPlayer where all episodes will be made available shortly after they have been broadcast.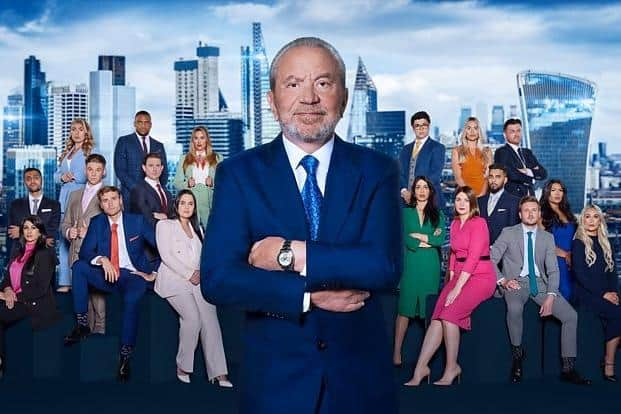 Who are Lord Sugar's advisors?
After stepping in to replace Lord Sugar's aide Claude Littner in the last series, former winner Tim Campbell will be joining the show on a permanent basis.
He will appear alongside Karren Brady, while Claude Littner will return for two episodes – including the first.
What does the successful candidate win?
In earlier series the winning candidate won a six-figure job at one of Lord Sugar's company.
Now the victorious businessperson receives a bumper £250,000 cash injection into their business, as well as invaluable advice from new business partner Lord Sugar.
What's the first challenge?
The first episode sees the candidates jet off to the Caribbean island of Antigua. Under the watchful eye of Baroness Karren Brady and Claude Littner, the teams must sell and run bespoke tours.
Who are the candidates?
This year will see 18 candidates battle it out for the prize – the largest numebr since the 13th series.
Here's who they are and why they think they deserve to win:
Avi Sharma, city banker, London
"Lord Sugar's investment will help me escape the rat race of a banking job. I'm the hardest working rat he'll ever meet."
Bradley Johnson, Construction Company Director, North Yorkshire
"I deserve Lord Sugar's investment because I have a proven business and a strong can-do attitude. I have a business plan that will see us turn over seven figures after year three and who knows where else that could take us."
Dani Donovan, hair salon owner, Hertfordshire
"I deserve Lord Sugar's investment because I have a business that there is a huge gap in the market for. I feel my business is something that is actually really current, it's something that I think will appeal to lots of different people. It baffles me that no one has done it yet!"
Denisha Kaur Bharj, Financial Controller, Leicestershire
"I'm a woman who wants to create an empire and have it all; to be able to provide for my family and to be an inspiration to young women. I dream big, but I work extra hard and know everything is possible. I want to build an empire, with my first step being in business with Lord Sugar. I want to be mentored by the best to be the best."
Emma Browne, Senior Account Executive, County Kildare
"I am beyond determined and I have won countless awards throughout my career. I am a workaholic and working long hours and giving my full commitment is something I have done since a very young age. I will do anything to succeed. I have a uniquely profitable business idea. I am confident that whether I win the investment from Lord Sugar or not, I am going to make my company one of the most successful ideas to ever come out of The Apprentice. Watch this space."
Gregory Ebbs, Online Antiques Marketplace owner, Shropshire
"I deserve Lord Sugar's investment because I've got the experience and the vision to push my business forward and make it a resounding success. I think the chances of making this business super successful is greater than anybody else's, because it's such a fantastic principle. I think I'm leading the way in e-commerce for antiques."
Joe Phillips, Safari Guide, Worcestershire
"I don't deserve Lord Sugar's investment more than anyone else in the process, but I do think I have something that they don't. If Lord Sugar wants to invest in a business to help save the ocean, one lip balm at a time, then I'm his guy."
Kevin D'Arcy, Accountant, Dublin
"I started my business two years ago, on the side of a senior position in the financial services. It's gone from strength to strength in Ireland and is now stocked in some of the country's biggest stores. With Lord Sugar as my business partner, I know we can ride that wave into the UK and beyond..."
Mark Moseley, Pest Control Company owner, London
"I deserve Lord Sugar's investment because the pest control industry is worth hundreds of millions of pounds a year in the UK. Out of all the candidates on paper, I am the one who can grow the business the quickest. If Lord Sugar doesn't pick me, then he's missing a trick."
Marnie Swindells, Court Advocate, London
"I deserve Lord Sugar's investment because I have given my blood, sweat and tears to my business. I think that taking the experience I have in the boxing industry and all the experience that he has in the business industry, together we would be a winning combination. I have fought tooth and nail to get to where I am today with my business. I deserve the chance to have that investment to show him what I can do with it."
Megan Hornby, Sweet Shop & Cafe owner, East Yorkshire
"I deserve Lord Sugar's investment because I've already proven, at such a young age, that I'm innovative and hard-working. I've started a business that has a real niche. I've found a gap in the market, and I've made a success of it so far. I really think that with Lord Sugar's investment, my business could be nationally recognised."
Reece Donnelly, Theatre School owner, Glasgow
"Lord Sugar has never invested in a Scottish candidate and I'm here to prove that Scotland is filled with forward-thinking entrepreneurs and that we are not in fact a haggis-eating, kilt-wearing nation. My proven track record of starting, scaling and ultimately turning businesses into a success, along with Lord Sugar's knowledge and contacts, is a recipe for success."
Rochelle Anthony, Hair Salon & Academy owner, Bedfordshire
"I deserve Lord Sugar's investment because I know the hair industry like the back of my hand and Lord Sugar knows business. Together, we would be an absolute force to be reckoned with."
Shannon Martin, Bridal Boutique owner, West Yorkshire
"I feel that I deserve Lord Sugar's investment because my business is all based in the UK. There are not many other businesses that design, and manufacture wedding dresses made solely in the UK, which is exactly what my business plan is. I think it's a really good opportunity for him; he's never been in the bridal business before."
Shazia Hussain, Technology Recruiter, London
"I deserve Lord Sugar's investment for my ability to identify niches in business and to develop them into USPs. It's important to see a varied representation of women, including women with neurodiversity in business, as people with neurodiversity are linked to being increasingly successful within the corporate sector. I hope that I'll encourage more people like me not to be ashamed of their difference. It's okay to be different. It can make you extremely successful within business."
Simba Rwambiwa, Senior Sales Representative, Birmingham
"I deserve Lord Sugar's business investment because I have a business that not only guarantees profit, but also guarantees to improve the quality of peoples' lives."
Sohail Chowdhary, Martial Arts School owner, Southampton
"I was raised in a council house and I'm proud of that, but that means I've had to fight hard to achieve the comfortable life I lead today. I've got a proven track record behind me and if the previous five years are anything to go by, the next five are going to be something special. Plus, owning a martial arts business means Lord Sugar can learn how to kick ass for free."
Victoria Goulbourne, Online Sweet Business owner, Merseyside
"I deserve Lord Sugar's investment as I'm adaptable and have a keen business acumen. During the pandemic I had to change my career suddenly, I identified a gap in the market where there are no pick and mix sweets presented aesthetically. My business took off quickly and with Lord Sugar's investment I know it could fly."