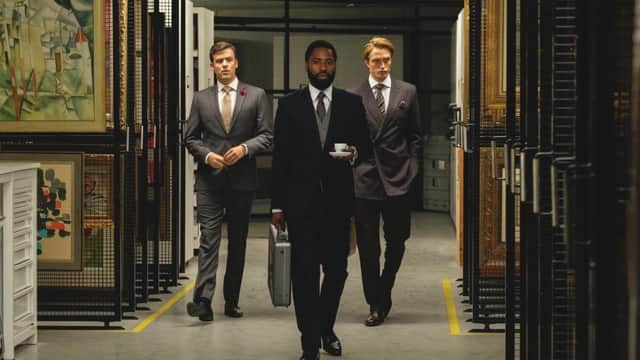 John David Washington (centre) plays the film's unnamed protagonist
There's a lot riding on Tenet, Christopher Nolan's latest shrouded-in-mystery blockbuster. As someone who has dedicated his career to preserving the big screen experience, it's hardly surprising he's found himself being positioned as the saviour of cinemas as we emerge from lockdown. His own obstinacy as peers have drifted away from celluloid towards deep-pocketed streaming services and prestige television has been mirrored in the way Tenet has remained stubbornly on the release schedule, pushed back again and again, but always there, hovering Batman-like in the shadowy recesses of the future, protecting an idea of cinema while the rest of the industry cowers in fear, awaiting its fate.
A sci-fi inflected espionage thriller, Tenet may dust off some well-worn genre tropes as its nameless protagonist (played by John David Washington) is recruited to prevent World War Three, but what's surprising about the film is how attuned to the current moment it sometimes feels, not just in its futuristic prognostications (mask-wearing, a ruthlessly narcissistic villain), but in its grimly ironic thematic obsession with humanity's unwillingness to prepare for a future it can see coming but can't quite imagine happening (not for nothing does Nolan set part of the film off the coast of Pompeii).
At the same time, Tenet feels like a film from another age, the all-guns-blazing, globetrotting likes of which we might not see again for a long time once the current slate of big budget movies awaiting release are finally out in the world. Tenet's own breathlessly executed opening sequence, for instance, takes place in a packed auditorium during a classical music concert and the sheer busyness of a scene filled with extras watching a cultural event stands in marked contrast to the socially distanced way anyone seeing this in a cinema over the next few weeks will experience it.
But if the terrorist attack that interrupts this performance – decimating the audience in the process – feels oddly symbolic, Nolan wastes no time plunging us into a world in which the old escapist pleasures of the big screen are readily apparent. For action fans especially, Tenet offers a cornucopia of high-stakes set-pieces, upping the ticking-clock tension of Tom Cruise's Mission: Impossible series and featuring at least one brutal fist fight that might even top Matt Damon's pen/magazine/hardback-book enhanced lethality in the first three Bourne films (it involves the inventive use of a cheese grater in a restaurant kitchen).
As with Nolan's own Inception, though, there's also an ongoing nod to James Bond, with Washington playing a sort of ultra-athletic, ultra-suave super spy. He's even got his own "M" in the form of Nolan regular Michael Caine, who pops up for a delicious one-scene cameo as some kind of secret service establishment bigwig, there to school Washington on the finer points of British snobbery and furnish him with a fake Goya print and a company credit card. Both allow him to get close to English art dealer Kat (Elizabeth Debicki), the abused wife of the film's villain, Andrei Sator (Kenneth Branagh), a Russian arms dealer rumoured to be behind the sudden proliferation of a new class of inverted weaponry that fires bullets backwards and may bring about a "temporal" Cold War.
Imminent yet vague world-threatening crisis duly established, the film pinballs Washington around the globe on his hunt for answers, teaming him up with a raffish, mysterious British expat called Neil (Robert Pattinson) as he infiltrates the moneyed but unhappy world of Kat, whose school-aged son is the only thing tying her to Sator. So desperate is she to escape her husband that she literally tries to untether him during the film's most ridiculous scene: a high-speed catamaran outing that briefly makes the film look like a Rio-era Duran Duran video. Nolan, of course, grew up in the 1980s when ostentatious displays of wealth penetrated pop culture and he makes the most of his massive budget here to create exotic scenarios that allow him to create the illusion of narrative coherence for first-time viewers without boring them with the endless-seeming exposition required to set everything up.
That illusion, however, is also dependent on our willingness to be bamboozled and Nolan seems intent on risking audience disengagement by making much of the dialogue in these sequences incomprehensible. But all Nolan's movies function on some level as metaphors for his own creative process and Tenet is no different. As the film outlines its concept of "inversion" with talk of entropy and quantum mechanics and grandfather paradoxes, Washington's character is told he shouldn't even try to understand it. "Tenet," he's told, is a key that will unlock doors and it's not long before its hinted at palindromic significance manifests itself in the structure of the film. When Nolan lets rip with action sequences that simultaneously take place in forward and reverse motion, he is, of course, hoping to dazzle us with the sheer audacity of conducting a heist or a car chase with characters and objects concurrently obeying different physical laws depending upon which point in the timeline they're coming from. But this concept also functions as a kind of externalisation of Nolan's penchant for puzzle-box movies that invite multiple viewings.
To paraphrase the film, the leap of faith Nolan is asking audiences to take is that the mechanics of the world he's created are sound enough so that when we rewatch the movie we can (hopefully) take pleasure in seeing how all the pieces click into place once that initial sensory overload has abated. The problem with Tenet, though, is that, ironically, some of the big plot twists are so obvious it's hard not to get ahead of the film, even on a first viewing. And yet this may be an intentional ruse on Nolan's part, designed to distract from a different twist, a final shot penny drop that, at the very least, suggests rewatching the movie with the knowledge it implies in mind may prove equally enervating. And maddening. ■
On general release from 26 August
A message from the Editor:
It might be a while before we see the big budget likes of Tenet in cinemas again
Thank you for reading this story on our website. While I have your attention, I also have an important request to make of you.
The dramatic events of 2020 are having a major impact on many of our advertisers - and consequently the revenue we receive. We are now more reliant than ever on you taking out a digital subscription to support our journalism.