Review: Why a wonky walker in a pink puffa could save summer TV – Aidan Smith
I'll be honest with you: I stopped listening to Barry Manilow when he got into punk, followed by speed metal, then almost inevitably death metal, after which came crunk, grime and, more recently, Baz's drill years. But I've always had a soft spot for that first big blousy hit, Mandy.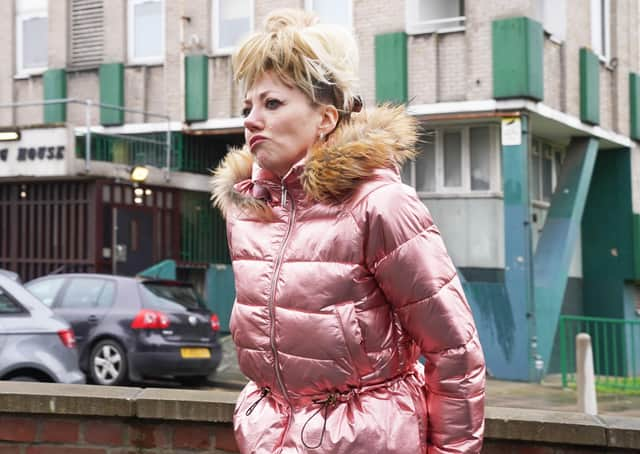 Diane Morgan from Mandy. Picture: Kieron McCarron/BBC
It's the theme to Mandy (BBC2), Diane Morgan's comedy. "You kissed me and stopped me from shaking/And I need you today," emotes Baz, and boy does TV need Morgan right now.
Summertime always brings loads of repeats, all the more this year with Covid interrupting production on shows. Morgan's series – she writes, directs and stars – has wriggled its way onto the schedules and anticipation, if not yet desperation, is high. Can these 15-minute episodes about a failed fruit-packer stand up to the heightened scrutiny?
Actually I think Mandy Carter can stand up to anything. She's the least 
self-aware character in comedy since Morgan played Kath in After Life, before 
that Liz in Motherland and before that Philomena Cunk the imbecilic journalist (some do exist). This is Morgan's speciality. That and show-stealing.
Mandy – pink puffa, wonky hair, squint mouth, odd walk where her bottom half arrives a couple of seconds before the top half – was supposedly keeping the banana conveyor-belt free of deadly spiders, a dismal effort resulting in 17 fatalities. Armed with a mallet, her job's motto had been "Stun. Kill. Make Sure." (That Dominic Cummings with his nifty slogans gets everywhere.) She tries frying chicken next but burns down the takeaway.
Then she thinks her future may lie in feats of endurance and trains for a non-stop line-dancing contest. This renews the rivalry with an old nemesis played by Maxine Peake, who cheated Mandy out of glory in Touch the Truck, a game show where the last person still with a hand on the lorry wins. What a fantastic concept. Could this be Cummings' genius as well? But we shouldn't sneer. If the shortage of programmes turns into a famine we'll all be wishing that Touch the Truck was real.
The Queen, we learned this week, rates Flash Gordon as her favourite movie. But she used to love Take the High Road – as did the Queen Mum – and in 2001 Her Majesty visited the set to see Mrs Mack wear her ridiculous 
tea-cosy hat like a crown.
Notable days for the hoary Highland soap are recalled in Scotland Loves High Road (STV), a 40th anniversary documentary which begins with a megamix of different versions of the theme, illustrating how the original bagpipe refrain was beefed up with drums, then seemed to lapse back into heedrum-hodrum of which the the great singing sheep-botherer Callum Kennedy would have been proud – before not even some Simple Minds-style pomp-rock could save the series from the axe.
In his first acting job, Alan Cummings' most memorable contribution involved a real axe, or at least a 
make-believe one: chopping down a mighty oak so it would fall on the Glendarroch lassie he thought he'd got pregnant, although with her dying breath as he was strangling her she revealed this had been a false alarm.
The great thesp chuckles at the memory of this, and while the Scottish culturati (whoever they are) might have wished the tree could have demolished the big hoose, the village and all the couthie inhabitants – with Cummings himself admitting acting chums can be similarly snobby about his sudsy beginnings – he has nothing but affection for evil woodcutter Jim Hunter and the show. "I love the fact I was in Take the High Road," he says. "Absolutely love it."
Yes, there was the odd murder. And Aids and drugs and suicides. It wasn't simply a shortbread-tin depiction of Scotland and nor was it 1,500 episodes about fertiliser. But it was what it was, a plucky, wobbly, interminable saga where directors would yell: "Cut! Classic soap reaction there!" Rubbish? Well, it was our rubbish. Scottish TV used to make it and now it hardly makes anything.
Maybe fly-on-the-wall TV will cease when there's no job or lifestyle that hasn't had its own six-part series and then the cameras will be trained on flies racing up vertical surfaces, perhaps with different degrees of difficulty. Until that moment, though, there will be shows like Selling Sunset (Netflix).
Remember Fred Dibnah, the celebrity steeplejack, original star of occupation-based telly, all that soot and grime? Now forget about him, this is a world away. Don't think either about Phil Dunphy, the lovably berkish realtor in Modern Family. The subjects of Selling Sunset are realtors, and berkish, but theirs is a viciously competitive scene, flogging LA dreamhomes. "Have you got f****** dementia?" one will inquire of another. Oh, and they all look like Playboy Bunnies. I almost forgot to mention that.
Want to join the conversation? Please or to comment on this article.