Edinburgh Festival Fringe theatre reviews: Tim Crouch: Truth's A Dog Must To Kennel | Every Word Was Once An Animal
It's the full five stars from Joyce McMillan for Tim Crouch's "brilliant, haunting and tragic" rumination on theatre's 21st century struggle between the digital and IRL domains. Equally very much for our time, Flemish company Ontroerend Goed's latest alluring and beautifully presented production scores highly too.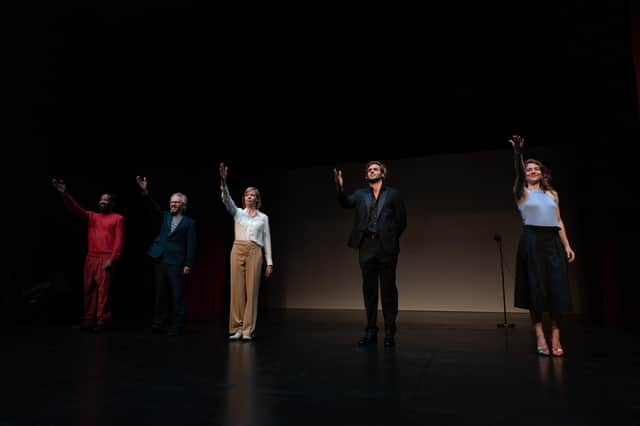 Every Word Was Once An Animal. PIC: Mirjam Devriendt.
Tim Crouch: Truth's A Dog Must To Kennel *****
Lyceum Studio (Venue 593), until 28 August
Every Word Was Once An Animal ****
Zoo Southside (Venue 82), until 28 August
A blasted heath, a king deposed and humiliated in his old age, a Fool in attendance; it's the third act of King Lear, all right, but not as Shakespeare enthusiasts have known it, for the last 400 years. For in his new show Truth's A Dog Must To Kennel, the legendary solo performer Tim Crouch – whose self-reflective work on theatre is adored by theatre-makers across the world – comes not to praise the business of theatre, but perhaps to bury it.
He senses that during lockdown, something profound has changed, both in the intensity of our relationship with the ever-bigger screens in our homes, and in the way we are able to come together for live performance; so he begins, after a brief introduction, by donning a virtual reality headset ("there's nothing in it"), peering into an imaginary audience at some pricey performance of King Lear – £95 for the posh seats, £135 if you add a pre-theatre dinner – and simply pointing out the expensive, upper-middle-class, status-hungry and corporate-sponsor-dependent economics of modern British theatre.
Then in the role of Lear's Fool, who disappears after Act 3, he begins to meditate on that absence; the idea of the Fool who finds that things have gone beyond any possibility of jokes, and who simply leaves the stage, never to return. He mocks the showbiz Polyannas who insist that theatre has "bounced back just the same" after the pandemic. He takes off his headset to eyeball us – "But it's not the same, though, is it? Is it?" – and accuses the whole exercise of live theatre in the 21st century of having a necrophiliac quality, like "fucking a corpse."
It is, of course, Tim Crouch's fate to deliver live performances so full of precision and connection, narrative energy and a profound sense of tragedy, that they often do more to demonstrate the power of theatre than to answer his existential questions about it. Crouch is a master storyteller for our times, wise, grief-stricken, helpless but authoritative; and here, with the help of an understated but brilliant soundtrack from composer Pippa Murphy, he constructs a narrative of that upmarket performance of Lear that becomes utterly urgent and compelling, as this 70 minute show moves towards it end.
The questions he asks, though, will not go away. And although there are plenty of big 21st century stories for theatre to tell about subjects other than itself, there is something brilliant, haunting and tragic about Crouch's suggestion that what is left of theatre has itself become a site of struggle; between those who still fully believe in shared human experience as we once knew it, and those who suspect that those times may be ending, to be replaced by forms of digital connection that offer both more, and much, much less.
It's perhaps no coincidence that the brilliant Flemish company Ontroerend Goed also return to this year's Fringe with a profoundly self-reflective show; a show about making a show that fails to open, after a company member has to drop out for family reasons.
In the course of a self-centred but oddly alluring and beautifully presented hour, delivered by a company of six in a series of interlinked monologues, Every Word Was Once An Animal toys with ideas about how to open a show (and when exactly it begins), how to deal with audience responses, how to use receding layers of red plush theatre curtains to maximum effect, and how to unsettle audiences with half-truths and unreliable information. There is also a beautiful drawing of an onion, with its many layers, which features strongly at various points.
And then – although this is not explicitly a show about lockdown – it offers a series of haunting black and white images of the homes to which they company returned, at the time when the world premiere of this lost show should have been taking place; Flemish views from tower blocks and balconies, into courtyards and pretty streets, or across anonymous modern cityscapes, cats preening on windowsills, pot plants, that onion drawing.
As shows go, Every Word Was Once An Animal certainly lacks obvious substance and theme, compared with some of Ontroerend Goed's recent work. It is absolutely a show for our time, though, in the sense that it captures our current desperate need to live in the moment, to enjoy the moment, to play with the moment; if only because we dare not look forward, too far.