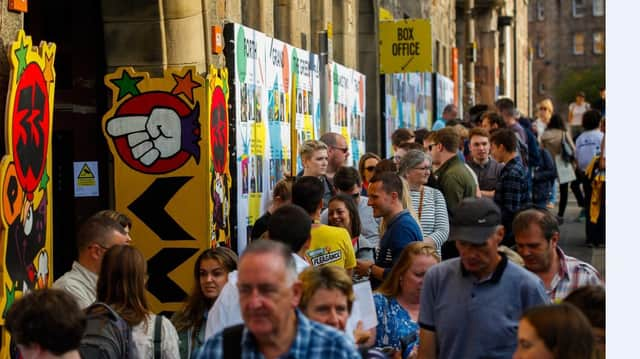 It is an August night in Edinburgh. You are probably damp, the rain smells of fast food and expensive lager in cheap plastic cups, you chat to the people around you on the cobbles, only one of whom has seen this act before but it is a twofer night and you want comedy. Inside it is hot and sweaty and tonight's comedy gamble hangs in the air along with the faint scent of the audience that came before: to quote the late, great Malcolm Hardee, it "might be good, might be shit". But now, for 50 minutes you are one part of a living, breathing, laughing organism which enjoys a short but entertaining, visceral relationship with a performer onstage. Even if it is not entertaining, it is still visceral. And that matters.
Something dies in stand up comedy which is not live. Nothing without a fourth wall does well when the camera imposes one upon it. Which is why the more theatrically formatted sketch comedy fares better when recorded, although the minimalist production values which can genuinely add to the fun of a live sketch show do not look good on camera.
Some physical comedy survives, but the quizzical stare of the Gaulier trained clown falters fatally when met only by the lens of a Samsung Galaxy.
Some comedy was dangling by a thread in the first place, to be fair. Those comics have taken to online shows like bad swimmers to a passing lilo. No one dies a horrible comedy death alone in their kitchen with an iPhone and a witty backdrop. The internet groans under the virtual weight of comics who are pushing their limits at an unpaid five minute spot, doing 15 on Insta'. And none of that is doing comedy much good.
Promoter Brett Vincent has grown his own comedy empire largely through shows at the Fringe. It was Brett who was the first to attempt to reinvent live comedy post-Lockdown with drive-in stand-up:
"I tried to go online at the start of the lockdown, and what spurred me on to create the drive-in gigs was that 95 per cent of Zoom gigs and free gigs online are terrible. I've seen some decent ones with Jason Manford, and Darrell Martin's Just the Tonic, but others are so bad I feel sorry for the performers and audience."
Many performers are just not well adapted to joining the "click to chuckle" brigade. "I find it disconcerting," says Fringe regular Paul Vickers, aka Twonkey. "Think about it … it's embarrassing really … like a practice. Going into a room, setting up loads of cottages and fishtanks and talking to some puppets. That sort of thing has led to the break up of relationships in my life … it can be quite traumatic for me."
Online you may have global reach, few critics (other comics on online forums do not count) and carte blanche. But the true joy of stand-up and, most of all, Fringe stand-up, is as basic as that of food and sex. It has to be experienced live. (Feel free to insert your own jokes about diarrhoea and STDs.)
Dave Johns' show this year was a celebration of his 30 years making people laugh, but he is opting to wait another one, rather than put it online.
"Stand up is like an orchid in the jungle, it's beautiful." he says, waxing unexpectedly lyrical for an old Geordie. "But you take it out of the jungle and you put it on your windowsill and you wonder "why has the orchid died?" The same with stand up. For it really to thrive, I feel it has to be in a packed-out room – a cellar is perfect – that's where it came from and that's where you experience it the best."
The show was due to go on at the Gilded Balloon where Karen Koren has probably done more to promote live stand up over the decades than anyone else in Edinburgh.
"Nothing would make me happier than to put on live stand-up comedy," she says. "I want it more than you know. It's heartbreaking that there is no Fringe." This is a woman whose venue burned to the ground, and who got up and carried on.Koren is one of the brave few waving a small light at the end of the long dark tunnel of August 2020. "The Garden beside Teviot will be opening as a bar with a small stage - and if we are allowed we will programme it," she says.
At time of writing, we still do not know if Nicola Sturgeon will ease the lockdown further and allow performances, under strict conditions, but alongside Karen, PBH's Free Fringe is, unsurprisingly, ready to rally its local acts – at least 30 of whom are raring to go – and make Edinburgh live and laugh again. It depends largely on the venues, of course.
"It wouldn't surprise me if some places just went 'bugger it I'm going to let a bloke stand in the corner and tell some jokes anyway,'" says Luke Meredith. "It all sounds a bit perverse. If a comic is talking through a microphone without needing to shout he's probably spreading less virus than anyone else. And if for the rest of the time everyone else isn't talking but listening to the comic, surely the occasional bit of laughter's okay? Not to do any comic down, but it's not like everyone's expectorating with sheer delight at every gag of every act."
Arthur Smith will be leading his live walks around town, Twonkey is working on something extraordinary that might take place in his windmill, and it seems that, as August arrives, small acts of comedic creativity will appear, live, all over Edinburgh.So we lose "him off the telly", "Top Ten Jokes about Jokes" features, mega-venues, massive production teams and Silent Disco. Dare I say a quiet hoorah? It might just let the new grassroots breathe. So nurture them.
Live comedy is not just important here, now, at the Fringe as we come out of lockdown, because online comedy simply does not compare to it, but because we could be in real danger of losing it.
"If we keep giving away free or cheap comedy online we will struggle to get people back paying for tickets for live shows," says Vincent, a man who knows to his personal cost. "It definitely showed when I was trying to promote the drive-ins. The amount of comments I'd get with 'why would I drive there to watch it when I can see all these BIG names online watching it from home for five quid?'"
"I'd hate to see stand-up be just online," says Dave Johns, "because even when you watch something like Live At The Apollo you always feel disconnected. When you are watching on a screen it's like you're looking through the window at the cool party."
Come on people, come back to the cool party.
A message from the Editor
Thank you for reading this story on our website. While I have your attention, I also have an important request to make of you.
With the coronavirus lockdown having a major impact on many of our advertisers - and consequently the revenue we receive - we are more reliant than ever on you taking out a digital subscription.
Subscribe to scotsman.com and enjoy unlimited access to Scottish news and information online and on our app. With a digital subscription, you can read more than 5 articles, see fewer ads, enjoy faster load times, and get access to exclusive newsletters and content. Visit https://www.scotsman.com/subscriptions now to sign up.