The Scotsman Sessions #359: Ross Wilson
Welcome to the Scotsman Sessions, a series of short video performances from artists all around the country introduced by our critics. Here, poet Ross Wilson reads three poems from his new collection, Vital Signs
"I always liked the idea of writing," says poet Ross Wilson. "I liked words, but I wasn't exactly advanced at school. Then after I left I started taking it really seriously, going to the library and reading a lot. It became a part of my life quite seriously from the age of 17 or 18, and I've not looked back since then."
Wilson started out getting prose short stories published in the New Writing Scotland anthology and elsewhere, and writing three novels in his youth. "The first went through a couple of readings with a big London publisher and agents seemed to like it, but I wrote a lot in my dialect and that put people off," says the Fifer from Kelty, who's lived in Condorrat in North Lanarkshire since 2016.
"There are examples of people who have done well with that, but I was probably a bit scunnered after that and needed a change. I didn't realise I would go completely in the other direction and not go back." He's talking about his switch to poetry in his mid-twenties. "It really took over, I was surprised by that."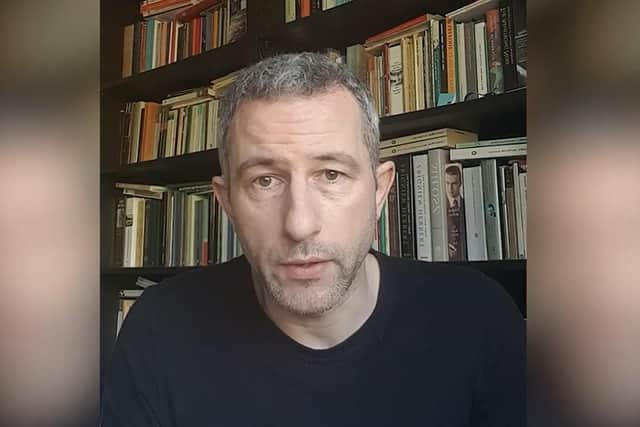 Wilson released his debut collection Line Drawing in 2018. The title referred to the 19th century rules of boxing – a childhood hobby of his – where a line would be drawn between the competitors. Some of the poems were about the sport too, although Wilson's approachable, open-hearted writing speaks of so much more between the lines.
"The pleasure of reading is one thing, the appreciation of the sounds of words, the way they're shaped on the page and make a pattern," he says, when asked what poetry means to him. "That has nothing to do with the content, the subject matter or the politics. But all these other things go into these forms, about the complexity of living, trying to talk to people as human beings. I'm from a former mining area in Fife, I work for the NHS, you could probably work out my politics to some degree, but at the same time I want to try and communicate with people that don't necessarily share my views."
Line Drawing was shortlisted for the 2019 Saltire Society Poetry Book of the Year award, and since then he's published the pamphlet Letters to Rosie, about his daughter and new fatherhood. Rosie is also a recurring character in this year's second full collection Vital Signs, which takes in fatherhood, but also his work as an auxiliary nurse in Glasgow, including during the height of the pandemic.
"I'd no intention of writing about my work life, and in my profession you need to take care about what you're saying, but I worked in intensive care during Covid, so I wrote poems as a way of coping. It was cathartic." The three poems in his Session are from Vital Signs.
"They're short and strong and different from each other tonally," he explains. "Shine is upbeat, celebratory, optimistic, it's a sharp contrast with The Taxi Driver Explains, with this mansplaining, ranting, angry man putting the world to rights. The other one is The Cost of Living, which takes us up to the present moment. Again my daughter pops up, you've got the darkness of the economic and political situation, then the lightness of the bairn on the swing, the last image is me pushing her on her seat. It says you've just got to go on, pushing back against tough situations."