Scotland Street Volume 17, Chapter 8: At 'The Nutcracker'
Big Lou did not expect nor ask for much from life. Having been born and raised on a farm near Arbroath – Snell Mains – she had been brought up in a simple and cautious tradition, one in which nothing was ever wasted, in which pleasures were simple – and always earned – and in which people were accustomed not to complain nor engage in self-pity. She subscribed to these values willingly and without reservation. She had never complained very much; life, she thought, had never been fair, and although you might combat unfairness when you encountered it, your efforts would never be enough. You made the most of what you had; you did your best, and, as far as you could, you helped others along the way. In many respects, then, Big Lou was markedly unfashionable.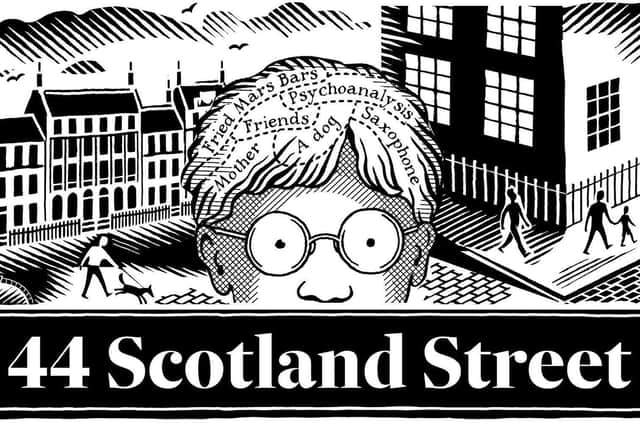 She was never plagued by doubts. There was right and there was wrong, and she could not understand why some people found it difficult to distinguish between them. Nor should anybody have too much difficulty, she thought, in distinguishing between people who were solid and trustworthy (often, as it happened, people from the rural parts of North East Scotland, especially the area around Arbroath) and people who could not be relied upon to quite same extent. If this suggested a somewhat old-fashioned world view, then that was indeed what it was, but that in itself was, for many who met Big Lou, something positive. The world was full of modern, up-to-the-minute people who reflected the mores of their times. That was unsurprising, but what if the zeitgeist was selfish, intolerant, and punitive (as in some respects it now seemed to be)? Then somebody like Big Lou, with her constancy, respect for others and disinclination to demonise those with whom she happened to disagree, might seem a refreshing exception.
As Angus once put it to Domenica, talking to Big Lou was rather like talking to somebody for whom it was still 1955, a time when men still wore hats, gave up their seats on buses to those in greater need of them and still used their surnames when introducing themselves; a time when women rarely swore, turned the collars of shirts when they frayed, and called one another hen in a spirit of solidarity and sympathy. "Not that I'm saying everything was perfect then," Angus added quickly. "I'm just saying it was different."
"Life was far from perfect then," Domenica had replied. "There was a great deal of injustice."
"I know, I know," insisted Angus. "I didn't suggest otherwise. You should listen to what I say, Domenica – not that I'm criticising you, my dear." He left it at that, although he thought he might have gone further, and pointed out that in 1955 people were still allowed to express views that diverged from the consensus. Domenica understood that, of course, and shared his concern over contemporary intolerance, with its Orwellian whiff, but Angus had other things to think about and the conversation had drifted off in another direction altogether.
In marrying Fat Bob, a Highland Games strongman, Big Lou felt that she had found somebody with whom she had common ground. She had never been a particular devotee of Highland Games, but she understood the world that they served. In particular, she appreciated the simple pleasure to be derived from watching men throwing hammers and tottering about under the weight of telegraph poles. She understood why the tug-of-war should give rise to such excitement, and why people should thrill to the sight of young women in tartan skirts dancing to the recorded strains of Jimmy Shand and his band, or of their contemporary musical heirs. All that, she understood because it had been part of her upbringing at Snell Mains.
Fat Bob had gone out of his way to be kind to Finlay, Big Lou's foster child, and the boy had reciprocated his affection. They had gone off together to the museum on Chambers Street, where Fat Bob had explained to Finlay all about Charles Edward Stuart and the Jacobites, and had also spent hours examining fossils, dinosaur bones, and models of Scottish engineering achievements. They had visited the Britannia in its dock in Leith, and there Bob, who had a feeling for machinery, had been at pains to explain the working of the ship's great engines and the bridge telegraph that controlled them.
Finlay had responded well to this attention, and had been particularly relieved that Bob had encouraged his interest in ballet. Ballet was not something that Bob had much experience of – in fact, he had never seen a ballet performance – but when he went with Finlay to a production of The Nutcracker Suite at the Festival Theatre, he was smitten by the spectacle. It was a matinee show, on a rather dreich Saturday afternoon, but a large crowd had turned out in support of Scottish Ballet, and the theatre was packed. Bob noticed that it was a different audience from the one that might attend the Pitlochry Highland Games, but when the first strains of Tchaikovsky rose from the orchestra pit, Bob caught his breath, and more or less held it until the final bars some two hours later.
Finlay saw the effect, and was pleased.
"You enjoyed that, Bob?" he asked.
Bob sighed. "Aye, Finlay – that was pure dead brilliant."
They went out onto the crowded pavements of the early evening, and joined the queue for a bus to take them back to Canonmills.
"Miss Eliot says that one day I might be able to audition for a role in that," said Finlay.
Miss Eliot was Finlay's ballet teacher at the ballet school he now attended, as a weekly boarder, in Glasgow.
Bob smiled. "I reckon you'd get it easily enough, Finlay. Big Lou says that you're pretty good."
Finlay smiled modestly. "It's hard, you know. Ballet involves a lot of work. You have to keep yourself fit."
"I'm sure you do," said Bob.
"And you can't let yourself put on weight," Finlay continued. "Did you see the principal dancers, Bob? Did you see them? Those guys had really strong muscles. No fat."
Bob nodded. "I noticed that."
Finlay looked up at him. "Do you think you could lose some weight, Bob?"
Bob did not answer immediately. He looked away. He was a big man – he had always been a big man – and it was his size that made him successful as a Highland Games strongman. At the same time, he would never have pretended that all his weight was muscle: he knew that a great deal of it was not. And that was why he had been called Fat Bob, rather than Bob. He had been given the soubriquet years ago, when people were perhaps less sensitive to these things, and where, in strongman circles, it had been a positive advantage. He had not minded. There were fat people and there were thin people – that was just the way it was.
But now, this innocent question from Finlay brought a moment of self-consciousness – and regret, and he found it difficult to respond.
"Are you all right, Bob?" asked Finlay, tugging at his sleeve.
"Aye, I'm fine, Finlay," Bob answered.
But that was not, strictly speaking, true.
© Alexander McCall Smith, 2023. The Stellar Debut of Galactica MacFee will be published by Polygon in November, price £17.99. The author welcomes comments from readers and can be contacted on [email protected]