Scotland Street Volume 17, Chapter 52: The Private Life of Miss Campbell
Miss Campbell had been teaching for twelve years. She had graduated from Moray House as a fully qualified infant teacher at the age of twenty-three. She had subsequently undertaken training in Steiner Waldorf educational methods, and had studied, part-time, for an advanced certificate in the psychology of early years, awarded by the University of Stirling.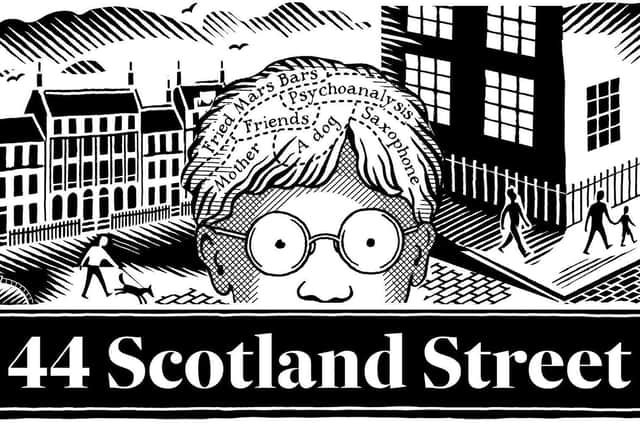 She was a keen tennis player and a member of a hill-walking club called the Pentland Wandering Society. She had had the same boyfriend for eight years. He was called Andrew Macdonald Henderson and he, too, was in the Pentland Wandering Society. She was hoping that he would ask her to marry him. He had yet to do so, although once, when they were on a walk to Balerno, on the south-west outskirts of Edinburgh, they had stopped briefly at Spylaw House where, while seated on a bench in the gardens, Andrew had suddenly said, "Isn't this romantic?"
Her heart had stopped. She subsequently wished that she had responded more directly. I let my golden chances pass me by, she thought. But we all did that; we all let that happen, and we often had a lifetime – a whole lifetime – to reflect on that fact. For what she had done was to say the first thing that came into her mind, which was, "Yes, old houses are definitely romantic", which had set Andrew off on the subject of Spylaw House. He was an enthusiast for local history, and there was scarcely a building in Edinburgh whose past he did not know something about – and Spylaw House was no exception. "This was where James Gillespie lived," he said. "He built this place in 1773, as you probably know."
Miss Campbell sighed. She did not know that, and she wanted to talk about the romance of being so close to the Water of Leith, about the towering trees on the skyline not far away; about the sky that was so filled with sun, but so northern too, and about the fact that she and Andrew could so easily set up in one of those new flats beside the river, and go for walks together back into Colinton village, in summer, before anybody else got up; and that all this could happen if only he would get round to asking her.
But he was clearly not thinking of any of this, for men often did not think about the things that women thought they should think about. And so he said, "He was a snuff manufacturer, you know, and you can still see the snuff mill at the back of the house, because it was powered by the Water of Leith. Imagine that!"
"And then," Andrew continued, "when he died, he left all his money – from the snuff, you see – to set up a hospital 'for the care of aged men and women' and a school 'for the education of poor boys'. The wording of some of these provisions sounds so quaint to the modern ear."
She had found herself looking at Andrew's ears. Were modern ears all that different, she wondered – and sighed again, because it had suddenly clouded over and the romantic moment had passed.
Miss Campbell was friendly with Andrew's sister, Sheila, who was an interpreter at the Conference Centre. She spoke Spanish, Portuguese and Italian. She had been married for five years, to a chemist who worked on battery research. Sheila was careful not to contrast her own settled domestic status with Miss Campbell's uncertain position, but every so often the subject arose, and a painful exchange took place.
"I know you don't like to discuss it, Jean," said Sheila. "But it's the elephant in the room, isn't it? And sometimes it helps to articulate these matters."
Miss Campbell had looked away. Sheila was right, but the problem from her point of view was that when they discussed these matters, the conversation ended in an impasse: there was nothing more to be said; there was no way out. Ultimately, she and Andrew would have to reach an understanding, but she feared that if she pushed him too hard, he would simply opt for freedom and she would lose him.
She had seen that happen to others, and she did not want to take the risk. And there were times when she accepted that this was her lot – and that she should accept it as such. Not everybody needed a whole other person in their lives: one might be perfectly happy with having part of another; sharing another life, say, between Friday and Monday, and then being by oneself on Tuesday, Wednesday and Thursday.
"I've spoken to Andrew, you know," Sheila went on. "Only three weeks ago, I said to him, 'You can't expect people to wait for ever.' I said this apropos of nothing – we weren't talking about you. I just let the remark hang in the air, but he knew what I was talking about – oh yes, he knew it was about the two of you, all right. You know how he can suddenly become silent."
"And he looked at me," Sheila continued. "He looked at me with that look that men have when you have them cornered. And he said, "People have different priorities in their lives." And he left it at that."
"Oh well," began Miss Campbell. "We need to cultivate acceptance in this life, although. . ."
Sheila looked at her expectantly.
"Although it's often women who have to do all the accepting," Sheila concluded. "Men talk about acceptance, but they can often arrange matters to suit themselves, and then they say that they accept things." She paused. "It's an old trick."
Miss Campbell agreed that it was. And if you pointed it out to men, they looked at you in an injured way and said that that sort of strategy may be used by some, but never by them. And so it continued in that never-ending, apparently unsolvable way.
"At least I have my job," Miss Campbell said. "I have the children."
"Of course," said Sheila. "The children."
She waited. She felt her friend wanted to tell her something.
© Alexander McCall Smith, 2023. The Stellar Debut of Galactica MacFee, published by Polygon, price £17.99, is on sale now. The author welcomes comments from readers and can be contacted on [email protected]