Scotland Street Volume 17, Chapter 3: Cold-water Therapy
Irene reached the beach shortly before two that afternoon. She had agreed that she and Jan would meet their cold-water therapist, Mark Carnoustie, at two fifteen, and they would then immerse themselves in the waves for approximately twenty minutes, the optimum time of exposure, he said, to the chilly temperatures of the North Sea at that latitude.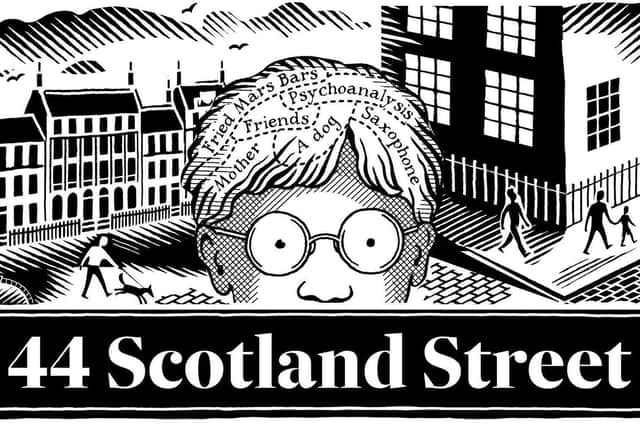 It was Jan who had introduced Irene to cold-water therapy and who had induced her to join her one day in the ice bath she had had installed in her back garden. She had given Irene a full explanation of the scientific basis for the treatment, detailing its beneficial effects on the circulation and the relief it provided for conditions ranging from muscular discomfort to depression.
"Cold water increases the blood supply to certain important parts of the body," she said. "This can reduce inflammation. It also lowers your core temperature, which invigorates you and tones up your immune system."
Irene had listened with interest. "I've heard that you sleep better if you take a cold shower before you go to bed," she said.
"You absolutely do," said Jan. "And some also say that it helps them lose weight. It's nothing new, you know. People have been practising this for centuries – it's just that we forget about these things and then we rediscover them."
Irene had enjoyed her first ice bath – at least she enjoyed it in retrospect, after she had emerged from the ice tub, blue and shivering, and had rubbed herself dry with a rough towel provided by her friend.
Irene nodded. "Much better," she said. "I feel I have a renewed focus."
Jan had introduced Irene to Mark Carnoustie, who planned a programme of what he called "guided therapy". Together they had regular sessions in pools of varying temperatures, followed by prolonged meditation sessions. Any scepticism that Irene might have entertained at the outset soon evaporated, or froze, perhaps, and she now became something of a proselyte for this new approach to well-being. With the zeal of the convert, she was looking forward to enrolling Stuart, Bertie and Ulysses in a cold-water programme once she returned to Edinburgh. She would start with the boys' regular evening bath, a time of great splashing and shouting: that could continue, but would take place in cold water rather than warm. A few ice cubes would be added from the freezer, which would take the temperature down further, and bring Bertie and Ulysses additional benefits. Stuart, she thought, could begin by taking cold showers, although she anticipated that she might need to exert some pressure on him to comply – at least at the beginning. He could be contrary at times, and she feared that his recent experience of single life might have pushed him further down the road of resistance to reason. No matter: he would be brought round, once he began to enjoy the feeling of enhanced wellbeing that cold showers would bring him.
Irene had travelled to the beach by bus and now stood in the car park, waiting for Jan to arrive. Jan was usually punctual, but that afternoon they had not arrived by ten minutes after the appointed time, and Irene was becoming impatient.
At two-thirty she telephoned Jan to find out what could be causing the delay. The answer was simple: Irene had mistaken the date. When she had called to make the arrangement, she had, in fact, suggested the following Tuesday, exactly a week later.
Irene apologised. "I take it you're not free to come down here now," she said.
Jan was not. She was a piano teacher, and she had two pupils coming for their lessons. "I can't cancel," she said. "So sorry." Then she added, "Why don't you take a dip by youself. Careful, though …"
Irene accepted that it was her fault. She felt disappointed, though, that having prepared herself psychologically for an immersion, this was now not to take place. She looked out over the beach, out to the line of grey-blue sea, out towards Norway. Not far offshore, a trawler ploughed a furrow in the watery field that was the sea, a line of white wake behind it, and circling, optimistic gulls waited to swoop on scraps from the fishermen's table.
She filled her lungs with air. She thought she could smell the salt, and the iodine of the tangle. She closed her eyes and saw herself in the waves, the foam around her, buoyant in the water's embrace.
She made her decision. She would have her cold-water therapy session by herself; she did not need others to be there to hold her hand. She would stick to the shallow water and not go too far out. It was perfectly safe, even though the beach was almost entirely deserted. Off in the far distance there was somebody else – a woman walking a dog – but there was no risk if one kept close enough to shore to stand up in the water if necessary. And the waves, although slightly higher than they had been the last time she was there, were nothing to worry about. After all, she was not intending to surf; she was here to wallow, to immerse herself.
She had her swimming costume on under her clothing, and now she placed her clothes in a neat pile, along with her towel and kit bag. Then, stepping out onto the beach, she ran down towards the line of the incoming tide. Irene believed it best to throw oneself into the water straightaway, rather than venturing in slowly. In this way the shock of the cold was encountered, and mastered, more quickly.
She gasped as she felt the cold envelop her. Then, launching herself forwards, she struck out for slightly deeper water. As she did so, she glanced up at the sky, high, empty, immense above her. An aircraft vapour trail intersected the expanse of blue; a gull mewed into the wind, dipped and wheeled.
She began to turn back, but she felt the water resist her change of direction. She persisted, but the current fought back. She looked back towards the beach, now receding fast. Irene was being carried out to sea, and there was nobody to witness her plight.
She gave a cry – a sharp, curtailed cry, half-swallowed, inaudible against the sounds of the waves and the wind that had now sprung up. She wondered what it would be like to drown. Was it peaceful, as people sometimes said it was? Did oblivion come quickly after the first gulp of water reached the lungs? This is happening to me, she thought – not to somebody else – to me. Personal extinction, she thought: the dissolution of self. And then she thought: if I survive this – somehow – I will be a much better person. I really will. I'll try; I'll try.
On the deck of the Aberdeen Belle, a fishing trawler based in Peterhead, returning from the fishing grounds east of Shetland, a young man pointed towards the shore. "There's a wifie in the water," he shouted to the skipper. "Look."
"Aye," said the skipper. "Ging ower to port a wee bittie, Doddie. An' ca' canny. The peer soul looks far founert."
© Alexander McCall Smith, 2023. The Stellar Debut of Galactica MacFee will be published by Polygon in November, price £17.99. The author welcomes comments from readers and can be contacted on [email protected]