Scotland Street Volume 17, Chapter 12: Small Talk
One of the first improvements that Elspeth and Matthew had made to their house at Nine Mile Burn when they had purchased it was to build a raised stone patio immediately to the front, at the point at which a rolling, unruly lawn swept up to the main building. This patio could be reached – or accessed, as their architect put it – through the large French doors that had been added to the kitchen, opening that room to the light from the south-west. And that light, especially in the summer, had a soft blue quality to it; it was a light, as Matthew once remarked to Angus Lordie, that reminded him of an artistic Scotland of the past, because it was there in the work of Peploe and Fergusson, of Gillies and Cowie. And if light can also be present in poetry and in song it was there in the writings of Hugh MacDiarmid, George Mackay Brown and Sorley MacLean, as much as it was in the songs of Jean Redpath.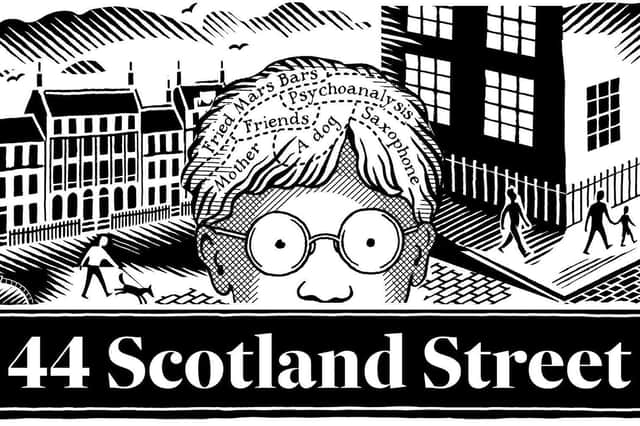 "Light," said Angus, "often reveals to us what isn't there, just as much as it shows us what is."
Matthew had wrestled with this. At first, he thought he knew what Angus meant, then he was not so sure. But then enigmatic observations are often helpful precisely because they are enigmatic, and require us to work out what we ourselves think. An illegible signpost may be every bit as useful as one which is easily read, because it makes us think about where we are. And so, after a few moments' hesitation, Matthew simply nodded and said, "Precisely," and went on to discuss something else.
Now, in the early summer evening, with the sun still on the Lammermuir Hills, they stood on that patio, each with a glass of prosecco (Elspeth had drawn the line at champagne, which she considered showy, even if Matthew loved it and argued that he could get it from a supermarket on Gorgie Road for eleven pounds a bottle – and with an easy screw-top substitute for a cork.) "You still get the bubbles," he said. "There's absolutely no difference."
"No champagne has a screw top," she said. "It just doesn't. And we can't give our guests eleven-pound champagne," she said, adding, "From a screw-top bottle."
Matthew had accepted that champagne was not to be, and had then chosen a prosecco that cost sixteen pounds a bottle. As he stored two bottles of the wine in the fridge prior to the guests' arrival, he remembered a story he had heard of somebody who had been in Italy and, keen to use his Italian, had gone up to the hotel bar and asked for "three glasses of prosciutto". He mentioned this to Elspeth, who had laughed, and said it could happen to anyone.
"One has to be so careful when using a foreign language," she said. "There's that whole issue of whether President Kennedy inadvertently described himself as a doughnut when he said Ich bin ein Berliner. He didn't, of course, and everybody knew what he meant." She paused as she remembered a warning about the literal translation of French. She had heard of somebody warning a friend to hurry lest she be left behind in boarding a ferry. "You'll be gauche derrière" was not quite right for that.
Ben and Catriona had arrived before Bruce, which had given them the opportunity to talk about the lightning strike in Dundas Street.
"He was considered lucky to be alive," said Ben. "Normally …"
Catriona interrupted him. "There are plenty of people who survive a lightning strike. It's a myth that you always succumb."
"I wouldn't like to risk it," said Matthew. He gave a shudder. He had had a morbid fear of electricity all his life, and the thought of being struck by lightning did not appeal. There was also a primitive judgemental aspect to it: people who were struck by lightning were singled out, were picked out for punishment, so to speak, by the gods. That was nonsense, he told himself, as ridiculous as the belief that human illness could be some sort of retribution for bad behaviour. The emperor Justinian had believed that sexual nonconformity caused earthquakes, and there were those who held that lying caused diseases of the jaw. Such nonsense. But, on the other hand, if there was anybody whose vanity might attract the attention of Nemesis, then surely that was Bruce. Hubris was what she was on the lookout for, he thought, but she might also take objection to narcissism, and Bruce had once been described as an "ocean-going narcissist", a description which Matthew had smiled at, but which now he thought should have worried him a bit more.
"Well," said Ben, "if I were Bruce, I'd take it as a warning. And I gather that he probably has."
Elspeth was interested. "Bruce has changed?"
"Definitely," said Ben. "You know what he used to be like. That clove-scented hair gel. That obsession with grooming. He read GQ from cover to cover every month – closely. All those male models and their grooming tips."
"And gadgets," added Matthew. "They have pages of gadget reviews. Electronic gizmos. Cars. Motorbikes. All the accoutrements."
"Why are men obsessed with gadgets?" asked Catriona.
"Perhaps because …" began Matthew, only to be interrupted by Catriona, who said that her question was directed to Elspeth.
"I wanted Elspeth's view," she said, giving Matthew a cool glance through her blue-framed spectacles. "Men don't understand their own weaknesses."
Matthew bit his lip. Why was it that women could get away with such sexist remarks when men, if they were to say such a thing, would be immediately condemned?
Elspeth looked at Matthew. She had been struck by Catriona's blue-framed glasses. But she did not like her manner.
She thought: What if I were to say that dinner was cancelled – that I had double-booked and we had to go into town immediately? I could. I could say that.
But Catriona seemed to have moved on from her provocative question. Looking about her, she saw the two old-fashioned deckchairs that had been placed at the far end of the patio, facing the view of the hills. She stared at these for a few moments. The evening sun was upon them, brightening the faded green canvas seating.
"Those chairs," she said, pointing to them.
Elspeth followed her gaze. "They're ancient," she said. "They belonged to Matthew's father."
Catriona absorbed this information. "Do you like Edward Hopper?" she asked.
"Yes. He painted a marvellous picture – it's one of my favourites. It's called People in the Sun, and it shows four or five people sitting in deckchairs just like that, on a patio just like this, looking at the sun. One of the women is wearing a wide-brimmed sun hat; the men are wearing jackets and ties. Men did in those days."
"Light," said Catriona. "Hopper painted light."
© Alexander McCall Smith, 2023. The Stellar Debut of Galactica MacFee will be published by Polygon in November, price £17.99. The author welcomes comments from readers and can be contacted on [email protected]