Scotland Street Volume 17, Chapter 1: Life's Narrative Arc
Do you have an arc in your life? An arc takes you from A to B, ascending and descending like a wave. It takes you from childhood, by way of what happens to you and what you do, to a point that occurs much later, to an ending, a resolution. That is what arcs are meant to do. They are contours, lines on the map of our lives – they are our narratives.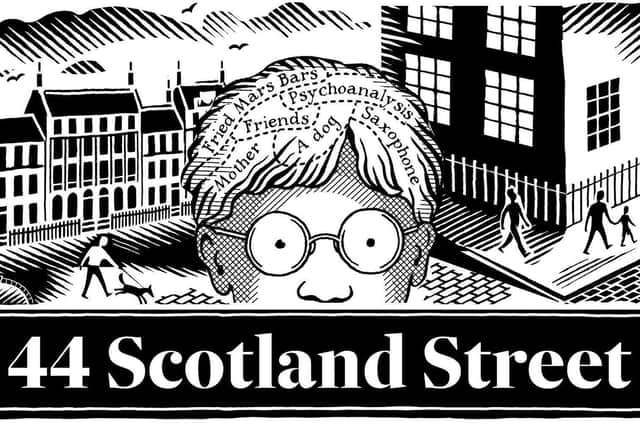 Not all lives, though, proceed quite like that. Some of us have no narrative arc at all, because our lives, much as we may enjoy them, meander along in an unremarkable way. And then there are those whose lives are not linear at all. They start in one place, go to another, change their mind and then end up back where they started from. An example of this progression is that of those who meet somebody, fall in love, marry that person, fall out of love, separate, but then return to their original partner at the end of the day. That is not much of an arc, it would seem; it is more of a circle.
But the point of such circularity is that it happens, and rather more often than one might imagine. And so it is not beyond the bounds of possibility that Irene Pollock, wife of Stuart Pollock, and mother of Bertie and the unfortunate Ulysses, should have left her husband, gone to Aberdeen to pursue PhD studies under the supervision of her lover, the celebrated psychotherapist Hugo Fairbairn, but should now be thinking of returning to Edinburgh, at least for several days a week, spending the remaining days in Aberdeen.
Nor should we be surprised that Stuart, who had been encouraged in the most persistent and persuasive way by his mother, Nicola, to rid himself of his termagant wife, should now apparently be prepared to take Irene back for part of each week. What sort of arc is that? Not a very satisfactory one, Nicola would say. Her own progress through life had been far more structured. She had been married to a Portuguese wine producer, who had left her for their young housekeeper – allegedly on the direct instructions of the Virgin Mary; some men, Nicola observed, will prove extremely creative in their excuses.
Reacting to this decisively – with all the confidence of one who feels she has a satisfactory arc ­­– Nicola had returned to Scotland and to a flat in Edinburgh's Georgian New Town. There she lived in a degree of comfort, thanks to a generous divorce settlement and falling heir to an estate that included in its assets the successful Glasgow pie factory previously known as Pies for Protestants, but now renamed – with the sensitivity of the times – Inclusive Pies.
Nicola had been generous in the arrangements she made for this factory, engineering a worker management scheme, along with a profit-sharing regime markedly in the employees' favour. The factory prospered, and was widely cited as an example of liberal and enlightened capitalism, even if the pies it so successfully made – known as Scotch pies, and built in such a way as to create a reservoir of grease on the top – could hardly be described as healthy or enlightened.
Nicola felt that her son was weak, and had told him so on a number of occasions. She knew that it was not appropriate for a mother to interfere in a son's marriage, but there were circumstances in which a failure to do so amounted, in her view, to the moral equivalent of failing to wrest somebody from the coils of an encircling python. It would be as if Laocoön's mother, on that fateful day in Troy, had simply ignored the sight of her son and two grandsons toiling to defeat the serpent in which they were entwined.
Stuart was Laocoön, and had at long last come to understand that he was being suffocated by Irene. Since then, he had had one or two dalliances from which nothing had come, and he had returned to being single. He did not particularly mind that, but had eventually decided to try to meet somebody through internet dating, the method by which he had been told virtually everybody now met those with whom they became romantically involved.
The gods of internet dating – and there must be such in any modern pantheon of deities – must have been in a playful mood. Stuart had concealed his real name – out of a certain old-fashioned embarrassment – and had made a date to meet a woman in a bistro on Queen Street. When she arrived, he – and she – experienced a moment of utter disbelief: the woman he had arranged to meet turned out to be none other than Irene.
Such was the cosmic scale of this coincidence that both of them agreed that they might try to make a go of it again. Irene had changed: she realised that she had been, perhaps, a little bit too domineering, and this humility endeared her to Stuart. At the back of his mind, of course, was a desire to do his best for his two sons, and Irene, after all, was still their mother, even if she was a somewhat unusual one. Stuart was not a selfish man, and if it was in the best interests of Bertie and Ulysses that he should try once more to live with their mother, then that was something he was prepared to do, even at the cost of his recently won freedom.
They agreed that Irene would return to Edinburgh. She had made a certain amount of progress with her PhD, but she confessed to experiencing some difficulties in her relationship with Hugo Fairbairn. These were largely of an academic nature: they had disagreed on a number of points of Freudian theory, and their interpretation of certain Lacanian texts had diverged widely. More seriously, Dr Fairbairn had announced that self-analysis on his part had revealed to him that he was beginning to think of Irene as his mother, and that this had triggered Oedipal complications that were proving difficult to resolve, given that his father was already dead and could not therefore be the subject of repressed homicidal wishes. She had contested this, and they had then drifted into an acrimonious exchange in which reference was made to anxieties relating to castration. It was at that point that he had suggested that she might consider returning to Edinburgh. "I'm not trying to get rid of you, carissima," he said. "It's just that I think you should go back to Edinburgh, where you belong."
"Incroyable!" Irene had blurted out in riposte. "And where do you come from yourself, Hugissimo? Edinburgh, n'est-ce pas?"
Dr Fairbairn had sighed, but had given no answer, and Irene had left the room. In the heat of the moment, her Italian had deserted her, and she had lapsed into French – a sign that not only was she losing the argument, she had already lost it.
© Alexander McCall Smith, 2023. The Stellar Debut of Galactica MacFee will be published by Polygon in November, price £17.99. The author welcomes comments from readers and can be contacted on [email protected]
Comments
 0 comments
Want to join the conversation? Please or to comment on this article.