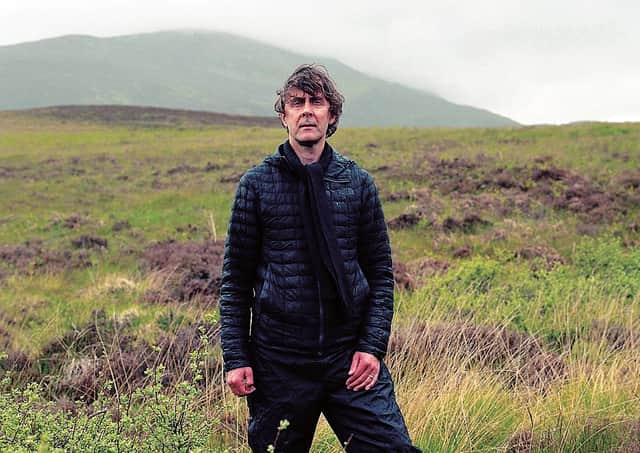 Alec Finlay: "I'm interested in ideas of parley and truce." PIC: Mhairi Law
As poets from around the world gather in St Andrews for StAnza, Scotland's international poetry festival, one Scottish voice joining the line-up for the first time is Alec Finlay.

It seems surprising that Finlay has not read at StAnza before (he did an art project at the festival in 2009). Perhaps his work, across poetry and visual art, is hard to pigon-hole, and there is, of course, the long shadow cast by his father, Ian Hamilton Finlay. He often works collaboratively, and his quiet preference for not promoting his own authorship doesn't thrust his name into the spotlight, but, after more than 20 years of consistently interesting work, his appearance at the festival feels long overdue.

Finlay, 53, has been an important part of Scotland's creative landscape since the mid 1990s. His first projects were as a publisher, and he conceived and edited the landmark Pocketbooks series which brought together the works of poets, artists and essayists. When he began to create his own work at the age of 33, it was often in collaboration with other artists.

Recent work has included planting an orchard at Jupiter Artland, an installation for the Venice Architecture Biennale, and Gathering – A Place Aware Guide to the Cairngorms, commissioned by art gallery Hauser & Wirth as part of their ongoing project at the Fife Arms Hotel in Braemar. Of his work, he says simply: "I'm an artist and a poet and they're the same thing for me. Language is a material, and I also make art. I have gradually knitted together my art and poetry, and I enjoy their relationship."

Much of his work is concerned with the wild landscapes of Scotland, despite the fact that, having suffered from ME since he was 21, his own access to these landscapes has been limited. In current projects – a residency with walking and wellbeing organisation Paths for All, and his own initiative, Day of Access – he has been beginning to write about his illness for the first time.

"I have developed techniques, really out of having a disability, although it took me a long time to acknowledge that," he says, thoughtfully. "It took me ten years to realise that my imagination was coming from my own constraint." Signature strands in his work – place names, ecology, folk tales – became ways of exploring landscapes he could not physically visit.

For another recent project, A Far-Off Land, for Macmillan Cancer Care, he and photographer Hannah Devereux created evocative images in which blankets became mountain landscapes, inspired by Robert Louis Stevenson's poem "The Land of Counterpane."

"Poetry is interesting because of what it can do to scale, that you can describe a vast landscape, or the nape of someone's neck, in the same length of poem. So, that disability perspective is particularly appropriate to the poem."

Day of Access came from an elegantly simple idea – helping people with physical limitations access wild landscapes using Land Rovers on hill and forest tracks. A pilot day took place last June, and 12 more are planned for 2020. Finlay says: "There is a kind of disability heroics, where you'll get people in wheelchairs abseiling off cliffs. It's all wonderful, but I'm more interested in a kind of gentle revolution."

One theme he comes back to again and again in our conversation is the potential of poetry and art to reconcile opposing forces, to contain complexities. He describes his "found poem" "A Better Tale to Tell," written after the independence referendum using submissions to the Smith Commission, as a work of "a work of healing." He is concerned by the vitriol unleashed on social media at and between poets, fuelled by the current political environment and identity politics.

"It is approaching a crisis in Scotland in terms of a culture of accusation, blame, bullying or false accusation. It's having a strong impact on people's mental health. My generation of poets are concerned, and younger poets are often terrified, suffering what I call "peer fear," afraid of being attacked by people they know or don't know. In response I'm interested in ideas of parley and truce. Festivals are important because they are places where people can meet and talk these things through, that's how reconciliation happens."

He adds: "I grew up with a difficult, wonderful father, who made pastoral artwork, and combined a playful sense of the poetic with an attraction to the taboo of violence. This current atmosphere reminds me of the most bitter of his disputes. I learned, from the personal cost my family paid, how destructive those disputes can be, breaking relationships, leaving deep wounds, and how no good comes from them. I see that behaviour repeated now among a handful of younger poets."

It would be unfair to Finlay's own significant body of work to spend too much time comparing him with his father, though there are clearly parallels in their ways of working. He requests that if I mention his father, I also mention his mother, Sue Finlay, for whom he has fought for recognition as the co-creator of Little Sparta, the art garden at Stonypath in the Pentland Hills.

"I know the obvious thing is 'What did I get out of my mum and dad?' and I don't know. It wasn't as obvious as growing up there made me an artist or poet. It made me interested in books. I always said my dad's library was the influence on me, and Pocketbooks was the natural outcome of that.
"I saw creativity happening between my mother and father, that was really it, although they didn't talk about it. So I had a curiousity which was about a dynamic between two people, and I've gone on to work quite relationally.

"My dad was disabled with agoraphobia, he never left Stonypath until almost the end of his life. He never would have thought of identifying as a disabled artist, but he was. I didn't talk about myself in that way, and I don't want to be only that, but it did give me an aesthetic. Creativity is always about limit for me, though it isn't limited. The blanket can be a mountain, and the mountain can be a blanket. It goes both ways, and that is art."


StAnza takes place at various venues in St Andrews from 4-8 March. Alec Finlay will read on 5 March in Parliament Hall. He will also lead a 'Minor Walk' on 6 March, www.stanzapoetry.org