Ever since the late and great Tom Nairn published his groundbreaking book The Break-Up of Britain in 1977, the idea that the concept of Britain and Britishness is undergoing a long-term decline has been the subject of much scholarship and intense discussion, not only in the UK, but across all those parts of the world that were once part of the vast British Empire.
Reports of the death of Britain have often been greatly exaggerated, of course; yet Stuart Ward – an Australian who has worked at universities in Italy, the UK and Ireland, and is currently at the Saxo Institute in Copenhagen – does not dissent from the broad academic consensus that the years since 1945 have seen an unravelling of the deliberately vague concept of British identity that once helped to hold together that hugely diverse imperial network of commercial, cultural and political links.
His thesis, though, is that our understanding of the current challenges to British identity within the UK is greatly deepened by setting those shifts of allegiance in the wider global context of the end of Empire; and while his mighty tome – more than 200,000 words of prose over 500 pages, followed by 200 pages of acknowledgments, notes and index – may not add great deal, in the end, to that initial insight, it certainly offers a rare treasure-trove of rich and fascinating material about the myriad ways in which different parts of the 19th century Empire have sought to negotiate their way towards a new post-imperial sense of identity. Ward's grasp of colonial history is vast and astonishing, as he weaves together his huge web of incidents and examples, from 1950's Kenya and Ian Smith's Rhodesia to Canada, Australia, New Zealand, Notting Hill and Belfast; each one casting a slightly different perspective on the complexities and contradictions wrapped into the idea of British identity.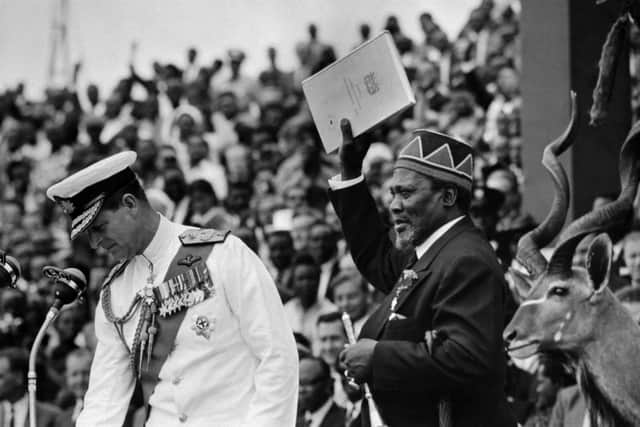 When it comes to UK domestic politics, though, he seems a little less sure-footed. He seems oddly unaware, for example, as he anatomises the "declinism" embraced by British political and intellectual elites in the 1960s, that that decade in the UK also saw a huge flowering of working-class creativity and cultural energy; a moment that arguably reflected the long-term success of the Attlee government's massive postwar investment in the health, welfare and education of ordinary British people, and that until the coming of Margaret Thatcher in 1979, and the long post-1980 return to imperial nostalgia and myth-making that culminated in Brexit, certainly helped to bind my generation of Scots – born in the postwar period – into the idea of a modern, swinging, democratic Britain, that had successfully moved on from its old imperial past.
In the end, though, there's no avoiding the inexorable logic of Ward's conclusion, expressed in a supremely elegant concluding chapter in which he sums up the increasingly untenable contradictions of an Empire which claimed to export English constitutional liberties to all the world, but was in fact, throughout most of its history, a highly racialised "white man's estate", that could not square its high principles with the illiberal colonial structures it created and operated. Ward's majestic book reminds us that there is little new under the sun, when it comes to the process of psychological disentanglement from such a complex imperial history; and also that the timescales involved are immensely long – so long that Scotland, for example, is only now beginning to come terms with its own deep complicity in every aspect of Empire, including the slave trade.
Small wonder, then, that Britain often seems – in Ward's words – like a country "endlessly coming to an end, apparently with no end in sight." The centrifugal pressures remain huge, but so do the inertias, while the possibility of renewal at the centre can never be entirely discounted; and the future – sadly for those who prefer to deal in unionist or nationalist certainties – remains tantalisingly unwritten.
Untied Kingdom – A Global History of the End of Britain, by Stuart Ward, Cambridge University Press, 550pp, £30