Book review: Behind the Enigma - The Authorised History of GCHQ, by John Ferris
In this mammoth book, historian John Ferris sheds much light on GCHQ, arguably the most secretive of he UK's intelligence services. Review by Vin Arthey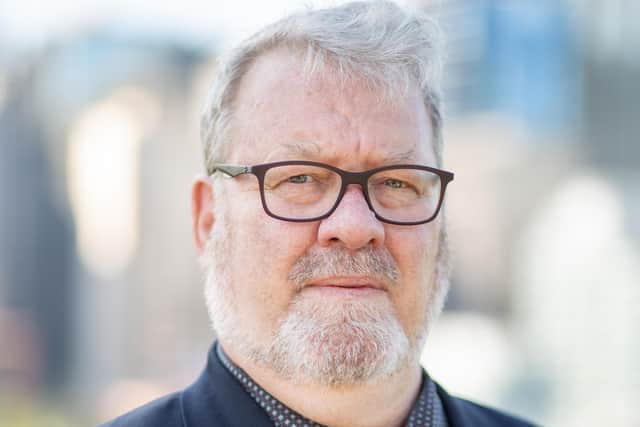 John Ferris PIC: Laura Johnston
Following Christopher Andrew's authorised history of MI5 (2009) and Keith Jeffery's MI6 (2010), with John Ferris's book we have now an authorised history of the third of the UK's intelligence services and arguably the most secret of them all, the "Government Communications Headquarters" or GCHQ. Inevitably, as with any account of an intelligence organisation, it has to be assumed that we are not being told everything, but in Ferris we have a shrewd and scrupulous historian, one who understands signals intelligence (Sigint) agencies, their technical side, and their use of computers and mathematics.
The "Enigma" of the title is a play on the notion of secrecy and what is regarded as GCHQ's main contribution to the UK's safety – the cracking of Germany's Enigma cyphers at Bletchley Park in World War 2 – but the book is a history of 100 years of Sigint in Britain's secret statecraft. It can be read in various ways, first as a historical narrative, beginning with the merging of Royal Navy and British Army traditions of coding, codebreaking and analysis systems during World War 1, through to today's practices, which include aiming to protect individuals against electronic intrusion via the internet. Then, the book is divided into 15 chapters and each chapter into ten or so subsections, so it can be dipped into to find out about particular events or crises. My own view on two particular matters has shifted: Bletchley Park's ULTRA, argues Ferris, was not effective per se, but because it meshed so well with economic and military resources and astute leadership at all levels. In the Falklands War the reasons behind the sinking of The General Belgrano become much clearer after reading the relevant Argentine signals.
The references to individual people at all levels of the service are many and illuminating. It's good to be reminded that Winston Churchill as First Lord of the Admiralty in 1914 was responsible for setting up "Room 40," GCHQ's precursor, that his understanding of Sigint and his experience of World War 1 were important in his leadership during World War 2. Then, small details can bring a nod or a smile when one is reading. It was new to me that Greenock-born Alastair Denniston, operational head of the Government Code and Cypher School (GC&CS - predecessor of GCHQ) for 20 years, was a member of the Scottish hockey team that won the bronze medal at the London Olympics of 1908. A number of the early codebreakers were drawn from Aberdeen University, including John Fraser who went on to become Professor of Celtic Studies there. A professor of German at Galway University, Emily Anderson, joined GC&CS in 1918, and was awarded the OBE for her work on Italian
Behind the Enigma, by John Ferris
cryptosystems in World War 2.
Fittingly for a book published in 2020, the significant role of women in the service from its very beginning is highlighted. During World War 1 25 per cent of GC&CS's managers were women and then over 75 per cent of the support staff at Bletchley Park. There have always been women cryptanalysts and although no woman has served as director, during and since the Cold War women have maintained their significant status and importance. GCHQ is proactive in its efforts to recruit women but Ferris does not discuss another of its recruitment initiatives, seeking autistic, dyslexic and other neurodiverse applicants. He does, however, note its liberal social attitudes, such as its understanding and support of the gay mathematician and cryptanalyst Alan Turing, whilst observing that the service was less liberal in its attitude to ethnic minorities in the war years. In tackling these issues, GCHQ shows it is alert to the role of a security and defence agency in a modern democracy, and Ferris is to be congratulated in shedding so much light upon it.
Behind the Enigma: The Authorised History of GCHQ, Britain's Secret Cyber Intelligence Agency, by John Ferris, Bloomsbury, 820pp, £30
A message from the Editor:
Thank you for reading this story on our website. While I have your attention, I also have an important request to make of you.
The dramatic events of 2020 are having a major impact on many of our advertisers - and consequently the revenue we receive. We are now more reliant than ever on you taking out a digital subscription to support our journalism.
Joy Yates, Editorial Director