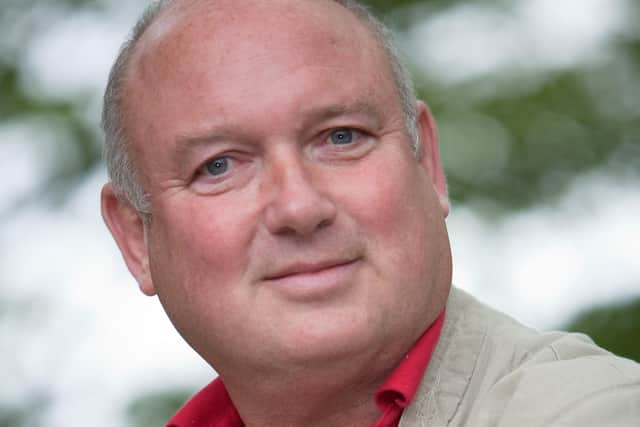 Louis de Bernières PIC: Ivon Bartholomew
The ace of the title of this latest book from Louis de Bernières is Daniel Pitts, who served with the Royal Flying Corps in the First World War and flew Lysanders for SOE into Occupied France in the Second. This novel is the last of a trilogy telling the story of Daniel's extended family and friends. It takes it up in 1945 and covers the following half-century in an easy, meandering style.
De Bernières is a very old-fashioned novelist, agreeably old-fashioned I would add. I doubt if this novel will be taught in Creative Writing classes, except perhaps as an example of how not to do it. De Bernières shifts the point of view as he pleases, sometimes shows and more often tells. He relates his stories in a rambling, easy-going way. There are few dramatic scenes. His characters write very long letters to each other. These are printed in italics and often go on for several pages. His novel is a great baggy monster, with lush descriptive passages. It's the kind of novel my mother used to get from Boot's Lending Library in the days when there were only two TV channels and often nothing worth watching on either.
Daniel himself is a bit too good to be true. Everybody loves him except for the only son of his broken marriage; even Rosie, the wife he has long lived apart from and who has reared their son Bertie to dislike him, really loves him deep down. Meanwhile he has had two other children with her sister Christabel, who lives for more than 50 years in a perfect Lesbian relationship with a cross-dressing painter who, like Daniel, is a pilot who owns her own aircraft. She is always known by her surname, Gaskell, and is generously willing to share Christabel with Daniel. They also keep a happily domesticated pet lion known as Puss. Gaskell sometimes dances with the lion to music from the Glenn Miller band.
Autumn of the Ace, by Louis de Bernières
Not surprisingly, given memories of both wars and the older generation's progress towards the grave, death plays a big part in the novel. There is much speculation about the survival of some sort of consciousness. Daniel visits the graves of family and comrades and occasionally feels there is some sort of communion. Love and death are themes that rarely fail to interest in a novel, and de Bernières asks good questions about both. Daniel himself is not averse to laying down the law, telling Rosie, when she protests that she has always loved him, that love is a matter of acts not words, how you behave rather than what you say. Not that he has always behaved well himself.
The novel, I suppose, stands or falls by your response to Daniel. He is an interesting and mostly convincing character, not always a sympathetic one, though the author lets him off lightly. He has his own stern moral code, which has never, however, precluded infidelity. He becomes more likeable as the autumn of his life edges into winter. Throughout, whatever his own failings may be, he is always ready to put others right. Early dislike of him on my part turned to a somewhat reluctant admiration. This may be testament to the author's skill, though I am not sure that he intended his super-competent hero to be so often tiresome or so given to self-pity.
Inasmuch as this rambling novel has a discernible theme, the subject is the search for happiness and the realization that true happiness obliges you to treat others with sympathy and understanding. Daniel gets there in the end.
De Bernières is a writer of great charm, not free from self-indulgence. He has the great gift of readability, something that many greater novelists are denied. The sentences run as easily as a river in flat country and, though you may find yourself skipping some long descriptive or speculative passages, it's more likely that you will go contentedly with the flow. I doubt if it is necessary to have read the two novels that cover the first half of Daniel's long life to enjoy this one. It reminds me of once-popular writers of family-history novels like Hugh Walpole and Mazo de la Roche, and is none the worse for that. Just the novel for a spell in lockdown.
The Autumn of the Ace, by Louis de Bernières, HarvillSecker, 311pp, £17.99
A message from the Editor:
Thank you for reading this story on our website. While I have your attention, I also have an important request to make of you.
The dramatic events of 2020 are having a major impact on many of our advertisers - and consequently the revenue we receive. We are now more reliant than ever on you taking out a digital subscription to support our journalism.
Joy Yates, Editorial Director